The Orphan Barrel Whiskey Co has unveiled its first rye whiskey, Scarlet Shade 14-Year-Old. Distilled in Indiana, the whiskey was aged in Kentucky and bottled in Tennessee.
To create Orphan Barrel Scarlet Shade, Master Blender Samantha Johnson blended rare 14-year-old Rye whiskey stocks. The whiskey was aged in Kentucky in new barrels of white oak for 14 years.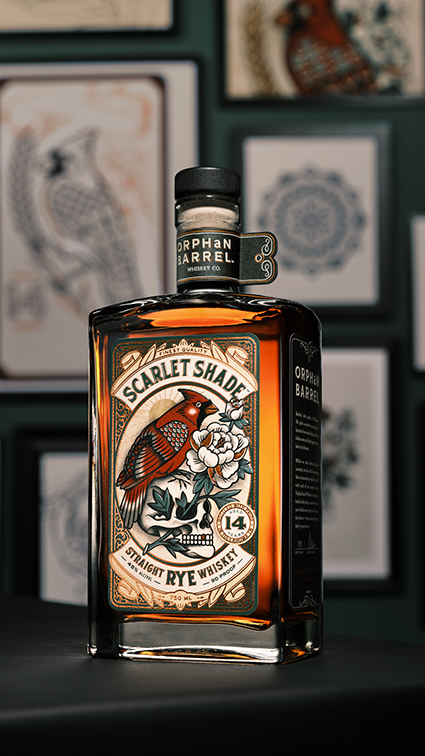 This rye offers sweet vanilla buttercream and lightly toasted oak aromas that turn into warm baking spices, rye toast, and orchard fruits on the palate, before warming into sweet orange marmalade and lingering as a dark chocolate finish. Bottled at 45% ABV, the brand recommends enjoying neat or on the rocks.
"For whiskey fans looking for a Rye with heritage, Scarlet Shade provides the opportunity to add a 14-year-old, incredibly rare offering to their collection," said Samantha Johnson, Orphan Barrel Scarlet Shade Master Blender. "This latest Orphan Barrel offering is a nod to the journey we are all on and the travelers that we are. I can't wait to share this unique experience with whiskey enthusiasts and showcase the dedication that went into crafting Scarlet Shade."
The label design pays homage to the history of Scarlet Shade. In the center, the cardinal–state bird of Indiana and Kentucky–is surrounded by Indiana's state flower, the peony, and perched on a skull to honor lost loved ones. With its flash tattoo-style label, the bottle serves as a reminder to all who cross its path that the best whiskey memories last forever.
Orphan Barrel Scarlet Shade is a limited release. Beginning this May, the new variant will begin rolling out at select spirits retailers across the nation with a suggested retail price of $199.99.
For more information, head over to the brand's official website.
Last April, the Orphan Barrel Whiskey Distilling Co launched Fable & Folly Finest Quality Whiskey Aged 14 Years. Fable & Folly was crafted from a proprietary blend that includes the last remaining stocks of Barterhouse, Forged Oak, and various Rhetoric releases.