Patrón has launched not one, but two smoky tequilas known as Ahumado Silver and Reposado. The new offerings are made with mesquite-smoked agave for a smooth, smoky flavor.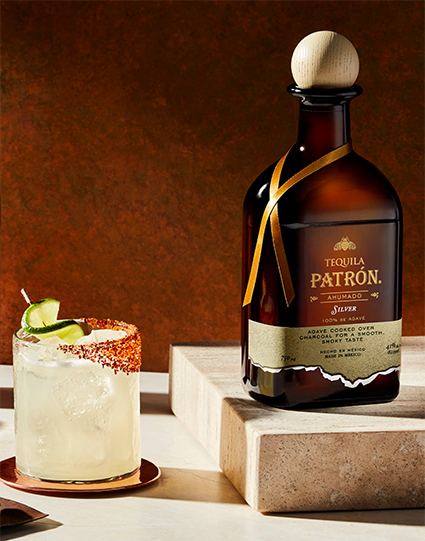 Both Patrón Ahumado Tequilas are handcrafted from 100% Weber Blue Agave. Roasted in small batches with mesquite charcoal for seven days in underground stone pits at Hacienda Patrón in Jalisco, Mexico, the agaves are then crushed through a 100% tahona wheel distillation process to offer the familiarity of Patrón Tequila, with a new, bold flavor profile. The same attention to detail also went into producing the bottle design, which features amber-colored glass and "burnt" edges on a copper foil label.
Patrón Ahumado can be enjoyed as a complement to a meal or used to elevate classic cocktails like a margarita, old fashioned, or even a negroni with a smoky flavor for those looking to try something new.
Bottled at 41% ABV, Ahumado Silver offers lingering smoke and a smooth taste, with natural sweetness, balanced by notes of spices, black pepper, and cooked agave. It's suggested to be served neat or in a cocktail like a Margarita, Negroni, or Spicy Ahumado Mule.
Bottled at 40% ABV, Ahumado Reposado features smooth, sweet, smoky, and woody flavors with notes of black pepper and hints of vanilla and caramel. It's suggested to be served neat, on the rocks or in a cocktail like a Paloma or Old Fashioned.
The Silver is priced at $69.99, while the Reposado comes in at $79.99. For more information, head over to the brand's official website.
In November, Patrón entered the prestige Tequila category with the launch of Patrón El Alto.