Lawrence Wine Estates has unveiled The Pavilion by Ink Grade. Located in Saint Helena, this tasting lounge showcases a range of single vineyard wines from one of Napa's most prestigious AVAs, Howell Mountain. Ink Grade looks to celebrate the connection between winemaking and nature, rooted in the volcanic soil of Howell Mountain and the purity of the fruit it produces.
Inspired by the world's most regarded artistic exhibitions, the bespoke tasting experience SENSES by Ink Grade innovates the traditional world of fine wine with an avant-garde and luxury hospitality offering. This first-of-its-kind wine tasting experience includes state of the art 360-degree video projection, sounds and lights to highlight an exclusive collection of fine wine. Lawrence Wine Estates partnered with Igloo Vision for this technology venture.
"Our goal for The Pavilion by Ink Grade was to create an unparalleled Napa Valley hospitality offering, and also an immersive cultural experience that encompasses wine, food, art, and technology," says Carlton McCoy, CEO of Lawrence Wine Estates. "This unique setting, with its wild nature, makes it possible to create truly rare wines, so we wanted to foster an equally rare visitor experience."
Ink Grade, which launched direct-to-guest in October 2021, is led by winemaker Matt Taylor. With years of experience in the industry and winemaking, from Burgundy to Sonoma, Matt brings his passion for biodynamic and natural farming practices to Ink Grade. Brand manager Julie Gilles showcases her knowledge for innovative experiences and hospitality, which were instrumental ahead of The Pavilion's launch.
Upon entering, guests are drawn to Le Noyau, an organic masterpiece crafted by a local artist. This artistic expression is selected from the volcanic grounds of Howell Mountain and lined with handcrafted Parota wood cut from lengths of Costa Rican trees. Surrounding Le Noyau throughout the tasting spaces are custom-made pieces with natural materials from its vineyard. The original artwork that inspired the wine labels and pays homage to early 20th century California wine country will also be on display.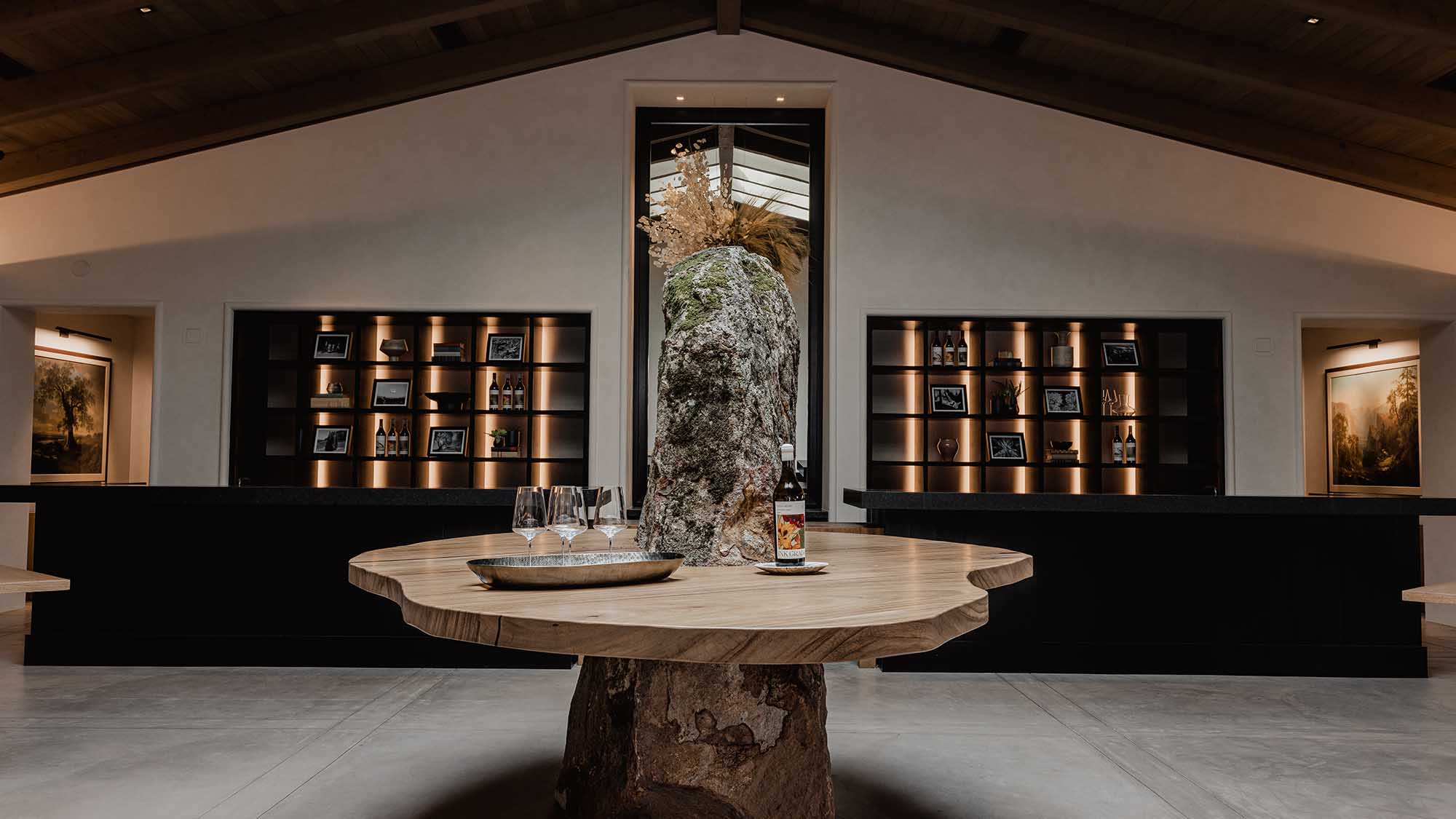 For Gilles, it was crucial to work with FDG Design Group to capture a tasting lounge ambiance that blends rooted, rustic, and refined. "The Pavilion will truly showcase the wild beauty of Ink Grade, from the intentional design and works from local artists to the SENSES by Ink Grade tasting experience," says Gilles.
"Ink Grade was founded on the principle of honoring and innovating the classic winemaking style of Napa Valley, rooted in the deep sense of place that is Howell Mountain," adds Taylor. "I am excited to see this special vineyard and ethos come to life in this hospitality experience."
The duality of wild, rugged terrain, and expressive, balanced wines is apparent in this distinct range, which includes Ink Grade's Andosol 2018, Howell Mountain Cabernet Sauvignon 2018, Napa Valley Cabernet Sauvignon 2019, and Sauvignon Blanc 2020. The Estate Collection is priced at $95 per person, and Senses by Ink Grade is priced at $195 per person; both experiences are 90 minutes each.
The Pavilion by Ink Grade will be open Thursday to Monday from 10:00am-3:30pm by appointment only and is located at 699 St. Helena Hwy in Saint Helena, CA. For more information, head over to the brand's official website.