To celebrate its 10th anniversary, Rabbit Hole has unveiled Tenniel, a limited-edition Double Barrel Cask Strength Kentucky Straight Bourbon Whiskey. The new expression's name honors John Tenniel, the illustrator of Alice's Adventures in Wonderland, whose works inspired the spirit's packaging.
Rabbit Hole Tenniel blends Cavehill, the brand's signature four grain triple malt bourbon, with Heigold, a high rye double malt bourbon, before finishing the whiskey in a number one char toasted barrel.
Speaking of the new release, Rabbit Hole's Founder and Whiskey Maker Kaveh Zamanian said, "It is a celebration of the art of whiskey making and the culmination of years of fearless creative decisions that have led to remarkable, award-winning bourbons."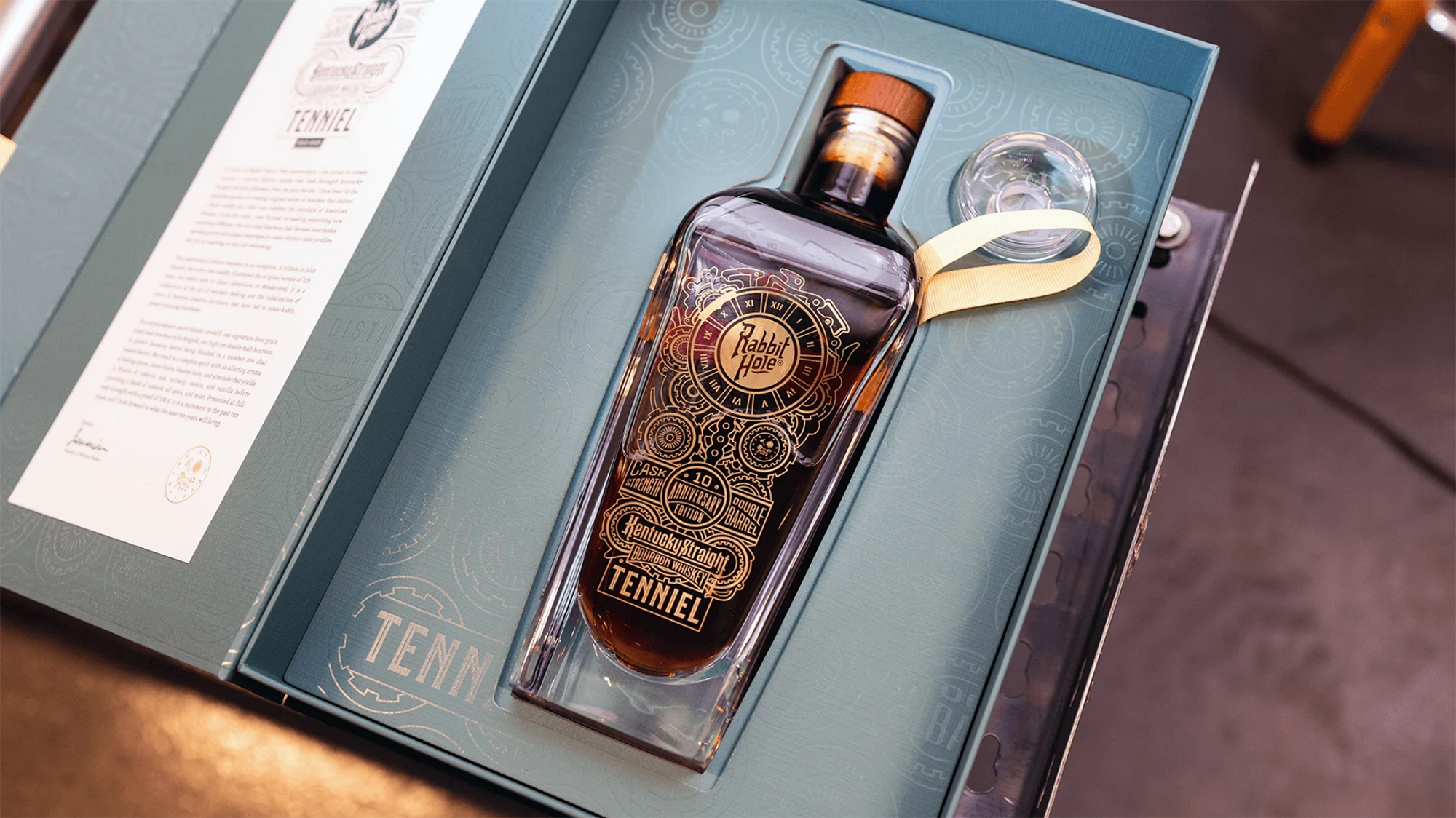 On the nose, the whiskey offers baking spices, stone fruits, toasted nuts. and almonds. The palate features tobacco, oak, nutmeg, cumin, and vanilla. The finish finds custard, allspice, and mint.
Tenniel comes presented in a teal background with gold artwork and accents, including an illustrated clock set to ten, which nods to the ten years since Rabbit Hole's founding. Inside the box is an ornate crystal decanter complete with a crystal stopper and a certificate containing a special message from Kaveh Zamanian.
Bottled 108.8 proof (54.4% ABV), just 939 sequentially-numbered pure crystal decanters, stoppers, and luxury gift boxes will be released for $650 each. For more information, head over to the brand's official website.
Last May, Rabbit Hole unveiled the fourth addition to its Founder's Collection, a 16-Year-Old, Cask Strength bourbon called 'Nevallier.' The previous September, the Louisville, Kentucky-based distillery released "Raceking" as the third expression in the series.