Coachbuilt whisky has teamed up with famed automaker Rolls-Royce to create an ultra-premium limited-release that has been aged for a minimum of 30 years, and includes whisky aged up to 35 years. Launched in 2022 by George Koutsakis and former Formula One World Champion Jenson Button, just 300 bottles of the new whisky will be released, with 150 bottles offered exclusively to Rolls-Royce London customers, and the additional 150 bottles available to purchase via ballot.
In partnership with Rolls-Royce London, Coachbuilt sought to create a whisky worthy of the heritage, craftsmanship, and legacy that surrounds the iconic British brand in order to offer an exquisite liquid to automotive and whisky enthusiasts alike. This rare release delivers elegance, depth, and maturity. The liquid has been crafted to combine whiskies aged primarily in sherry casks bringing forth abundant notes of red fruit and winter spice on the nose, while the palate delivers coffee, hints of toffee and caramel, and candied nuts and fruit, accentuated from additional maturation in ex-bourbon barrels. The blend offers an immense balance of sweetness, depth, and spice.
Bottles of the Coachbuilt Rolls-Royce London 30 Year-Old blend are presented in a co-branded engraved box hand-crafted by a small producer in the Scottish Highlands and finished with embossed leather to create a premium and collectable product.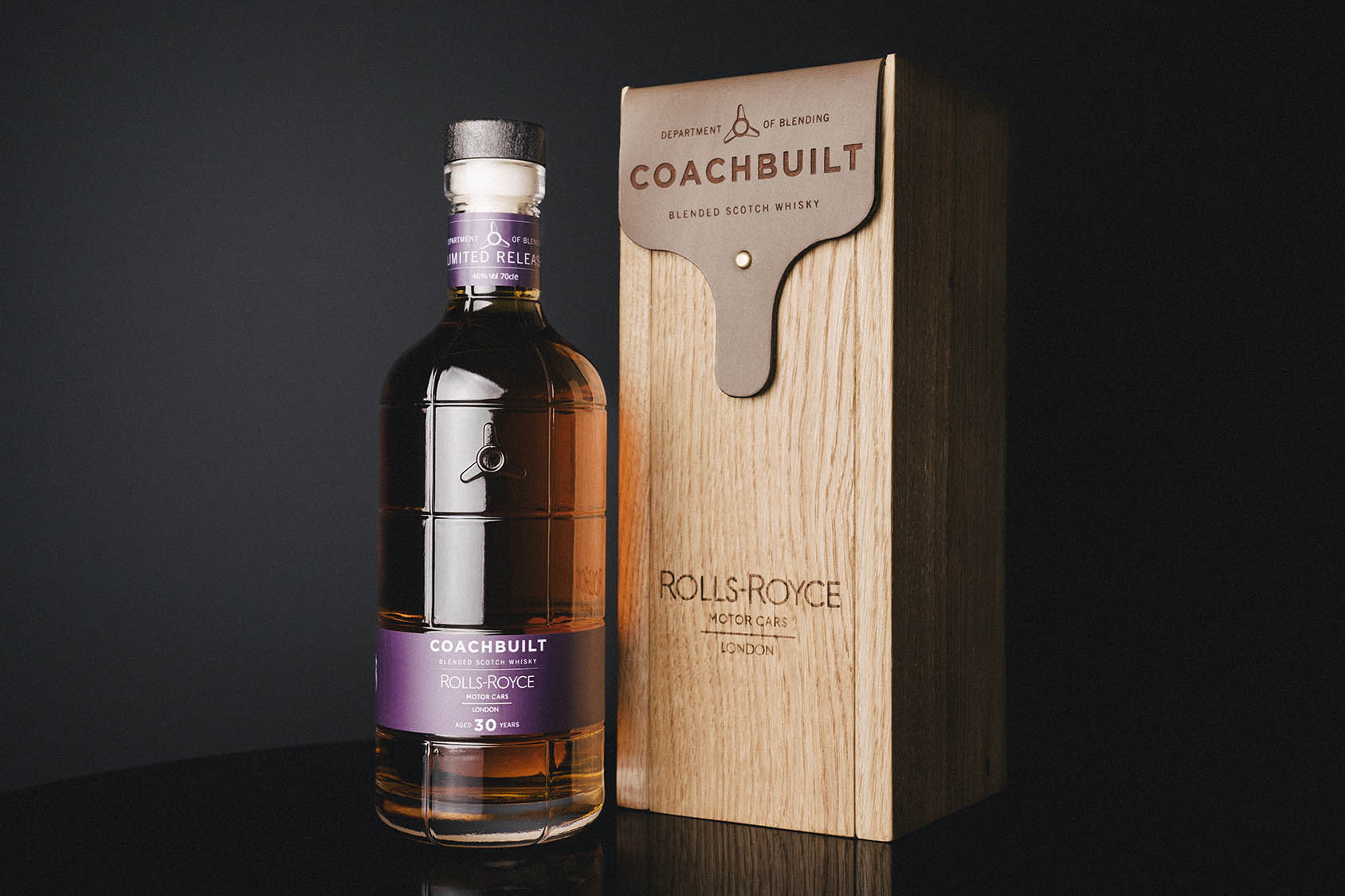 Speaking on the launch, Coachbuilt co-founder George Koutsakis says; "when we started Coachbuilt a year ago, the goal was always to work with luxury car brands on special releases, and draw the parallels between the two worlds of blended whisky and expertly-built cars. To work with Rolls-Royce London as our first such partnership is nothing short of a dream come true. When it comes to quality, craftsmanship, luxury and elegance, the Rolls-Royce brand is second to none, and being able to create a whisky to mirror that level of quality was, of course, a challenge. Yet, we have managed to create a whisky that is personally one of the best I've tasted. Aged for a minimum of 30 years, but including some old malt and grain whiskies aged for more that 35 years. The depth is immense yet nothing is overpowering. Subtle hints of spice and red fruit lead the way to a bitter sweet palate of coffee and dark chocolate, with berries and winter fruit joining in for a long and decadent finish."
Jenson Button, Coachbuilt co-founder comments; "It's really quite incredible to think we are only just celebrating Coachbuilt's first birthday, and to see how far we have come in that time. Seeing Coachbuilt partner with brands such as Rolls-Royce London was always the dream but to see that become a reality in 12 months is really rather special."
The limited-release marks the second expression launched by Coachbuilt, following its debut "Original Blend" release. Bottles will be priced at £1,500, with an allocation available for Rolls-Royce London customers to pre-order, with the remaining bottles available exclusively through a ballot here at coachbuiltwhisky.com now. Winners will be selected and the bottles will be delivered in mid-June.