The Royal Collection Trust has launched Buckingham Palace Sloe Gin, the latest addition to the crown's growing spirits collection. Over the past year, the British royal family along with its various members and estates have released a number of new spirits.
Buckingham Palace Sloe Gin is made from handpicked (probably not by an actual royal family member) whole sloe berries that are steeped in the Royal Collection Trust's classic Buckingham Palace gin.
Producing a light ruby color, the plums, cranberries, cloves and kirsch create a clean and medium aroma with an intensity on the nose. ​The palate is medium sweet with flavor characteristics of plums, marzipan and bitterness from the citrus fruits, followed by the juniper and ginger spices.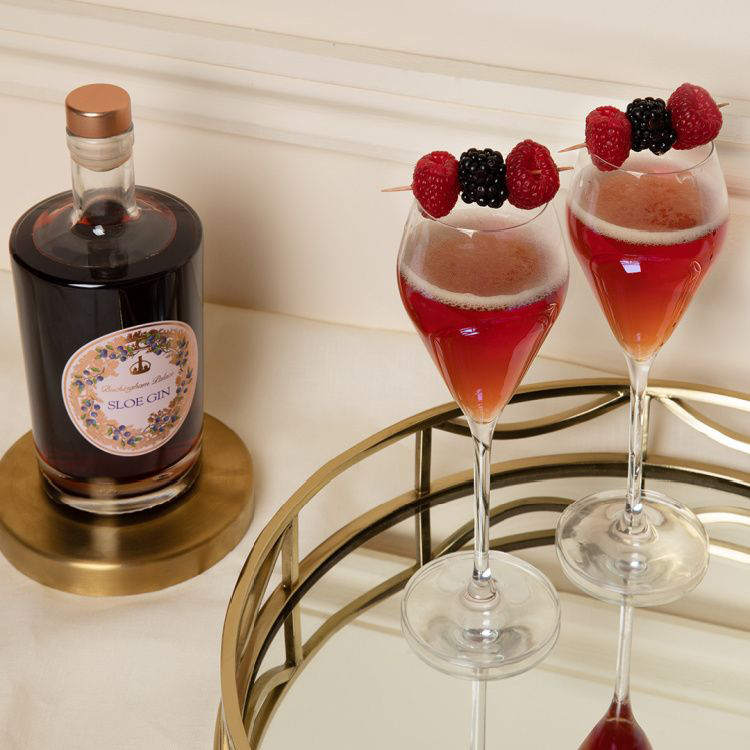 If you're looking to make a cocktail, the brand recommends trying a Sloe Royale, which features a 25ml measure of Buckingham Palace Sloe gin poured into a fluted glass, topped up with champagne or sparkling wine, and garnished with fresh berries or orange peel.
Bottled at 26% ABV, the sloe gin is priced at £30.00 per 500ml bottle and only available in the United Kingdom. It can be purchased online via the Royal Collection's shop.
Last July, The Royal Collection Trust launched its official Buckingham Palace Gin. Made from ingredients handpicked from the garden of the Queen's London residence, the premium small-batch London dry gin was made available in the charity's shops as well as there official web store. It is also the only gin served at official events at the palace.
In February of this year, Queen Elizabeth II's official Northern Ireland residence teamed up with Rademon Estate to release Hillsborough Castle and Gardens Shortcross Gin. It is made using "hand-picked" rose petals from the castle's Granville Rose Garden.
In November, the Queen released Sandringham Celebration Gin, made with botanicals grown on her private estate. Distilled on the estate in north Norfolk by Whatahoot, the gin features Sharon fruit, a woody tree related to ebony, also known as the Chinese Persimmon, and foliage from myrtle plants.