Danes do life right. They're the happiest people on the planet, boast some of the planet's top fashion designers, and play home to the world's best restaurants. They're also the world's most sustainable country. Things only seem to be getting better in Copenhagen these days, especially in the cocktail scene thanks to bars like Ruby who utilize culinary expertise and a sustainable mindset for their local take on the Whisky Sour, known as The Nude Way.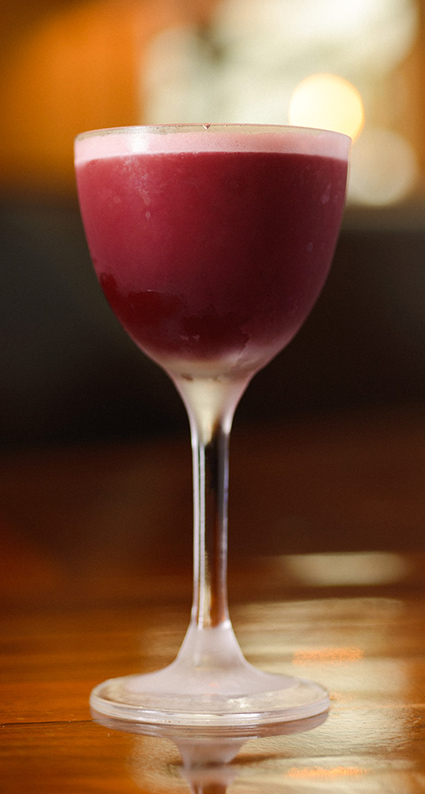 Ruby highlights Danish ingredients throughout their menu, but it's The Nude Way that elevates things to the next level. General manager Michael Hajiyianni uses whey to add extra acidity and texture to the cocktail, which also makes for a more sustainable serve. It allows the bar to forgo the use of imported lemons and wasteful egg whites.
Everything you need to know about The Nude Way below:
Bar:
Ruby
Bartender:
Michael Hajiyianni
Cocktail Name:
The Nude Way
Type of cocktail:
Whisky sour
Inspiration:
A sour style drink highlighting Danish ingredients
What make it unique:
We use an ingredient called whey, it's the by-product of yogurt and it gives acidity and texture to the drink, allowing us to forgo the use of imported lemons and wasteful egg whites.
Why does it represent the bar?:
We try to focus on using Danish ingredients as well as working as responsibly as we possibly can. This drink ticks both of those boxes.
Ingredients and measurements:
Directions:
Shake and double strain
Glassware:
Nick and Nora
Garnish:
Tonka aroma
How to make syrups/infusions/bitters/etc:
Sour Cherry cordial: mix equal parts sour cherry juice with sugar until sugar is dissolved.
Tonka aroma: Add 1 tonka bean to 100ml of Naked Malt and sous vide at 60 degrees for 1 hour before straining. Add to an atomizer.