London's Scarfes Bar is celebrating its 10th anniversary by launching a new menu, called 10. The list features guests' favorite cocktails from the last decade and pays homage to all that has made the bar great since it opened inside the Rosewood London.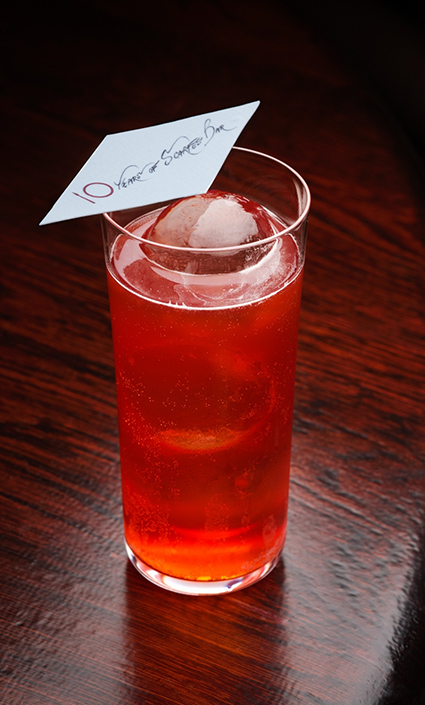 Scarfes Bar 10 cocktail menu celebrates the bar's cocktails, resident musicians, and loyal guests. Director of bars Martin Siska and head of mixology Yann Bouvignies led the team in creating a selection of home-made cordials, ferments, and distillates at the bar's laboratory, which have been used within all of the bar's cocktails.
The Scarfes Bar 10 menu features 10 cocktails that celebrate guests' favorites from over the past decade, as well as 10 new serves. On the classics side, visitors will find the Crescent City, a tribute to New Orleans' famed jazz music that comes straight from the freezer, and is a twist on a sour that blends The Macallan 12-Year-Old with Discarded Banana Peel rum and pandan. Another classic on the list will be the Zingy Stardust–which pays tribute to David Bowit–a delicate twist on a Gimlet that uses Bombay Premier Cru, topped with muscat, kaffir, neroli, and orange dust sustainably sourced from the leftover orange zest accrued behind the bar, mixed with popping candy. Another drink will be the Oui Madame, an effervescent cocktails with a tropical twist that is made of Grey Goose, peach wine, jasmine, and clarified Sri Lankan coconut
To mark the launch, Scarfes Bar partnered with Equal Measures UK, and will add £1 to each bill to support the education and mentorship program for the month of April. Additionally, the bar's namesake, British artist Gerald Scarfe, created a special edition of his caricature commemorating the 10-year anniversary which adorns the wall outside the bar.
For more information or to make a reservation, head over to the bar's official website.
Earlier this year, Scarfes Bar headed out on its very first global bar tour. The on-going tour will take the team across the globe to 10 different iconic destinations and 10 of the world's top bars as well as their own bar in London.