Tucked away in an almost hidden corner of Le Marais in Paris, the Sherry Butt draws much of their inspiration from Japanese culture. So is the case with the 6:48 a.m., a low-ABV highball variation that uses shochu as its base.
Raphaël Blanc, head bartender at Sherry Butt, uses smoked vanilla syrup, pandan, and sobacha to create a classic highball that's also lighter on its feet. Learn more about the drink below and figure out how to make it at home: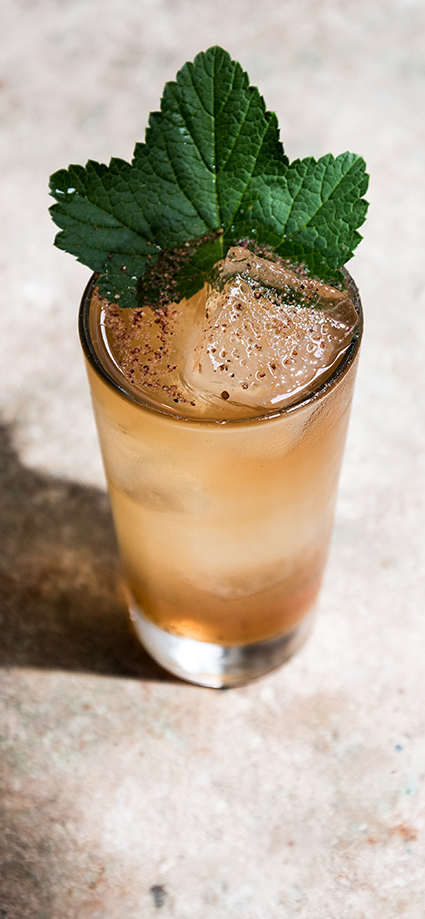 Bar:
Sherry Butt
Bartender:
Raphaël Blanc
Cocktail Name:
6:48 a.m.
Type of cocktail:
Shôchû Highball
Inspiration:
Classic Highball but lighter
What make it unique:
The association between a smoked vanilla syrup, the nutty, herbal flavors of the pandan and the roasted notes of the sobacha goes very well with the rice shôchû flavor profile.
Why does it represent the bar?
First, at Sherry Butt we like drawing our inspiration from Japanese culture which provides us with a large field of new flavors like shôchû and sobacha. Second, we are used to looking for simple cocktails, more based on balance and combination of flavors than on fancy techniques.
Ingredients and measurements:
30ml Shôchû de riz Osuzuyama Yamasemi
20ml Dry Madeira infused with pandan
45ml Sobacha
30ml Verjuice
20ml Smoked Vanilla Syrup
Directions:
Build
Glassware:
Highball
Garnish:
Ground Sobacha + Seasonal Leave
How to make syrups/infusions/bitters/etc:
Smoked Vanilla Syrup:
2 vanilla pods
7g smoked tea
1,1L Water
1kg Sugar
Boil water with vanilla, stop the heat, add smoked tea and let infused for 15min at least. Add sugar, stir, strain et voilà !
Sobacha:
Boil water, add sobacha and let it infuse for 15 mins, strain.