Islay single malt Scotch whisky makers Smokehead have announced the U.S. launch of their Tequila Cask Terminado.
Produced by maturing Smokehead in ex-Bourbon barrels with a finish in Mexican Tequila oak casks, Smokehead Tequila Cask Terminado offers a noteworthy taste where peat mixes with wild agave. Imbers will find smoke alongside chewy meringue, fresh blood orange, and barbecued pineapple. Additionally, notes of smooth toffee, vibrant lime, and ambrosian peaches appear, leading to a long and sweet finish with a touch of heat.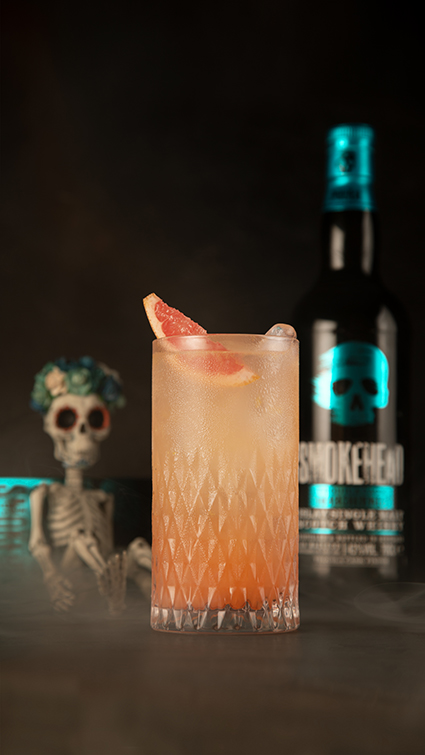 Smokehead recommends letting the liquid speak for itself and serving it straight or on the rocks. For cocktail aficionados, the brand recommends a 'Palominado', An unconventional Paloma that swaps tequila with the Terminado.
"Smokehead takes the best of Islay single malt and constantly pushes the boundaries of what classic whisky is and how it's perceived," commented Michael Sim, Chief Smokehead Ambassador. "Tequila Terminado very much comes out of the "why not" category, taking flavours in Islay single malt to different corners just as our other whiskies already have, Sherry Blast, Rum Cask Rebel and Twisted Stout.
"Smokehead has always ripped up the rule book, therefore finishing a peated single malt in a tequila cask is nothing ground-breaking for us. It was a natural step now that Tequila casks can be used in single malt maturation, allowing us to combine our heavily peated Smokehead and fabulous Tequila casks. The result is a whisky that is hard to put your finger on in terms of taste and style, just the way we like it!"
Bottled at 43% ABV, Smokehead Tequila Cask Terminado will be available for $79.99 per 700ml bottle. Consumers can purchase the whisky starting now in select retail shops in the U.S. for $79.99.
For more information, head over to the brand's official website.