Amsterdam cocktail bar Super Lyan is diving into the history of The Netherlands and its relation to water with its new menu, Below Sea Level. Designed by founder Ryan Chetiyawardana (aka Mr. Lyan) and the bar team, the menu is inspired by the need to bring attention to the continuously rising sea levels.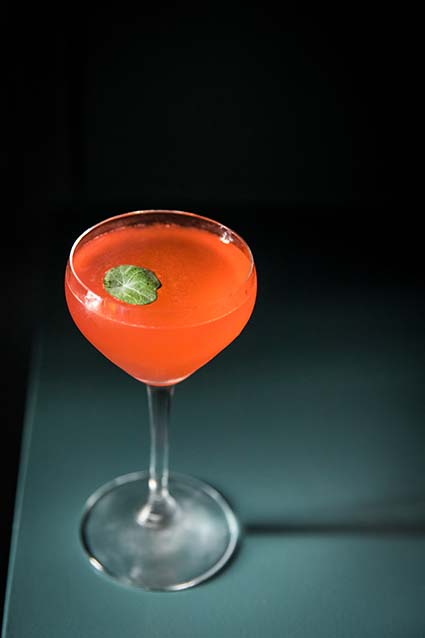 The Super Lyan Below Sea Level menu is split into four sections each referencing a different aspect of living below sea level: The Delta Works, Thinking Forward, Reclaiming Land from the Sea, and Dutch Waters.
Inspired by The Netherlands' largest flood protection system, the menu features the Oosterschelde cocktail in the category The Delta Works, with Patron, salted samphire, agave, and lychee. Salt Farm French Martini is part of Thinking Forward. This tropical twist on the French Martini with Ketel One Vodka is combined with pineapple, "Sweet onion," and tomato wine, which creates a boozy and spicy flavor explosion. Polders' Reclaimed 'Old Fashioned', with a pale golden look is a twist on the traditional Old Fashioned, fits within the eponymous category, Reclaiming Land from the Sea. Ketel One, Remy Martin, and blueberry combined with caramel notes result in an aromatic drink. The Dutch waters being an enemy and ally simultaneously, have led to unexpected innovations and consequences over the years, resulting in the Crandy-Shandy. The cocktail, as part of Dutch Waters, is a refreshing, floral and malt-based drink, combined with Tanqueray, Belvedere, and cranberry soda.
With its colorful design, fine-tuned cocktails, and small dishes, Super Lyan is an eclectic living room as well as a bustling dedicated cocktail bar. The bar constantly reinvents classic – through the drinks, food, and the design of the bar.
The Below Sea Level menu will be served to start from October 2022. Next year the series will be completed with the third and final menu, Flowers.
For more information or to make a reservation, head over to Super Lyan's official website.