Tamdhu has finally unveiled its Cigar Malt III. The latest single malt whisky to join the collection arrives at 53.8% ABV, and is non-chill filtered with an unmistakably rich flavor, meticulously matured to pair perfectly with a hand-rolled cigar.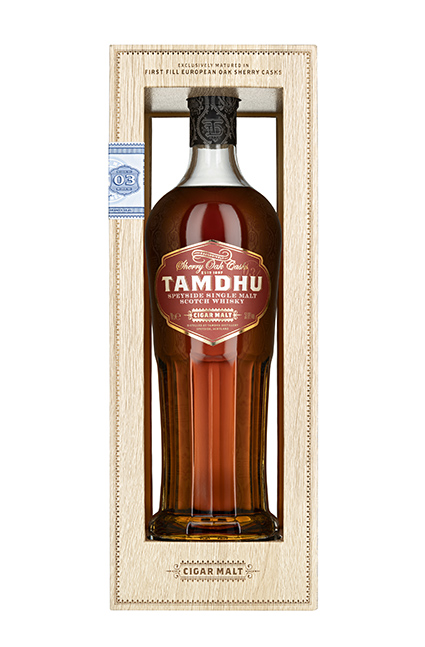 Cigar Malt III undergoes a unique maturation journey, developing its complex natural color and flavor within first-fill European oak Oloroso sherry casks. Each cask has been carefully curated, ensuring the wood has a strikingly robust character, capable of matching the opulence of a premium cigar.
The boldness of first fill European sherry oak casks provides Cigar Malt III with a powerful scent and a warm, rich color without losing Tamdhu's famed Speyside character. The nose offers aromas of gingerbread and honey alongside indulgent notes of creamy panna cotta and dried fruits. The palate finds more panna cotta along with sherry-dipped raisins and malt biscuits, before finishing with a hint of apricot jam and rich praline.
"Following the resounding success of Cigar Malt II, we take immense pleasure in introducing the latest expression in this distinguished series: Cigar Malt III," says Sandy McIntyre, Tamdhu Distillery Manager. "Reflecting the timeless pairing of cigars and single malts, this exceptional release showcases an especially bold flavor profile that harmonizes beautifully with the finest of cigars. Cigar Malt III is testament to Tamdhu's unwavering commitment to full-term sherry cask maturation, boasting an unparalleled depth and character."
Tamdhu Cigar Malt III is available now to purchase for £225 ($280 USD) via specialist retailers globally and directly from the brand's official website.
Last month, Tamdhu Speyside Single Malt Scotch Whisky unveiled Batch Strength 8. The latest edition in the collection arrived at 55.8% ABV (111.6 proof).