In early 2019, a 24-year-old Irish whiskey from a little Dublin distillery took home the award for World's Best Single Malt. The victory helped reestablish the Irish capital as a whiskey center and, ever since, the spirits craftor has continued the series, next with a 28-year-old and most recently with a 30-year-old single malt. Now, Teeling, as the distillery is known, has brought that "World's Best" single malt back again, but this time as a 32-year-old finished in a Purple Muscat cask.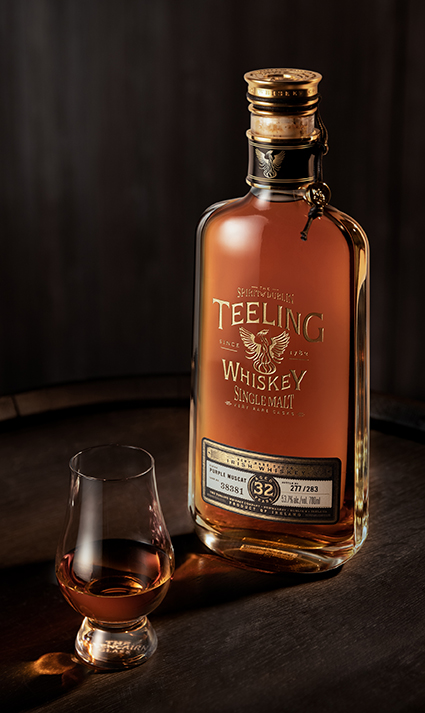 Distilled in 1990, matured in bourbon barrels for 28 years, and finished in a single Portuguese Purple Muscat French Oak cask for an additional four years, the Teeling 32-Year-Old Single Malt Irish Whiskey Purple Muscat Finish is exclusively available in the U.S. Master Distiller Alex Chasko sourced the Portuguese Purple Muscat barrel from outside of Lisbon in the Setubal region, selecting a toasted French Oak cask with rich berry and fruit notes. The result is a fruit-forward Single Malt Irish Whiskey that carries a juicy red berry flavour with spicy tropical notes.
On the nose, ripe red fruits aromas are followed by caramel, with chocolate walnuts and vanilla cream. The palate finds dried cherries, plums, sultanas, and figs with warm dry wood tannins. The finish featured strong wood spice with a rich, caramel fudge, and milk chocolate sweetness.
"This whiskey exemplifies our bold approach to innovation as a world-class whiskey company," said Jack Teeling, founder of Teeling Whiskey. "We are not afraid to take risks to bring something to the market that nobody else has – and we are extremely proud to release some of the oldest ever Irish Single Malt, finished in a unique cask."
The whiskey is hand-decanted into an engraved Attitude Haute bottle and comes with a gift-ready fine oak case and its own certificate of authenticity.
The Teeling 32-Year-Old Single Malt Irish Whiskey Purple Muscat Finish will be available for purchase for $3,499.99 in November 2022, exclusively in the U.S., online at ReserveBar, and at fine retailers in California, Nevada, Texas, Illinois, New York, Massachusetts, and Florida.
In June, Teeling celebrated its 7th anniversary with the launch of its Birthday Batch Irish whiskey.