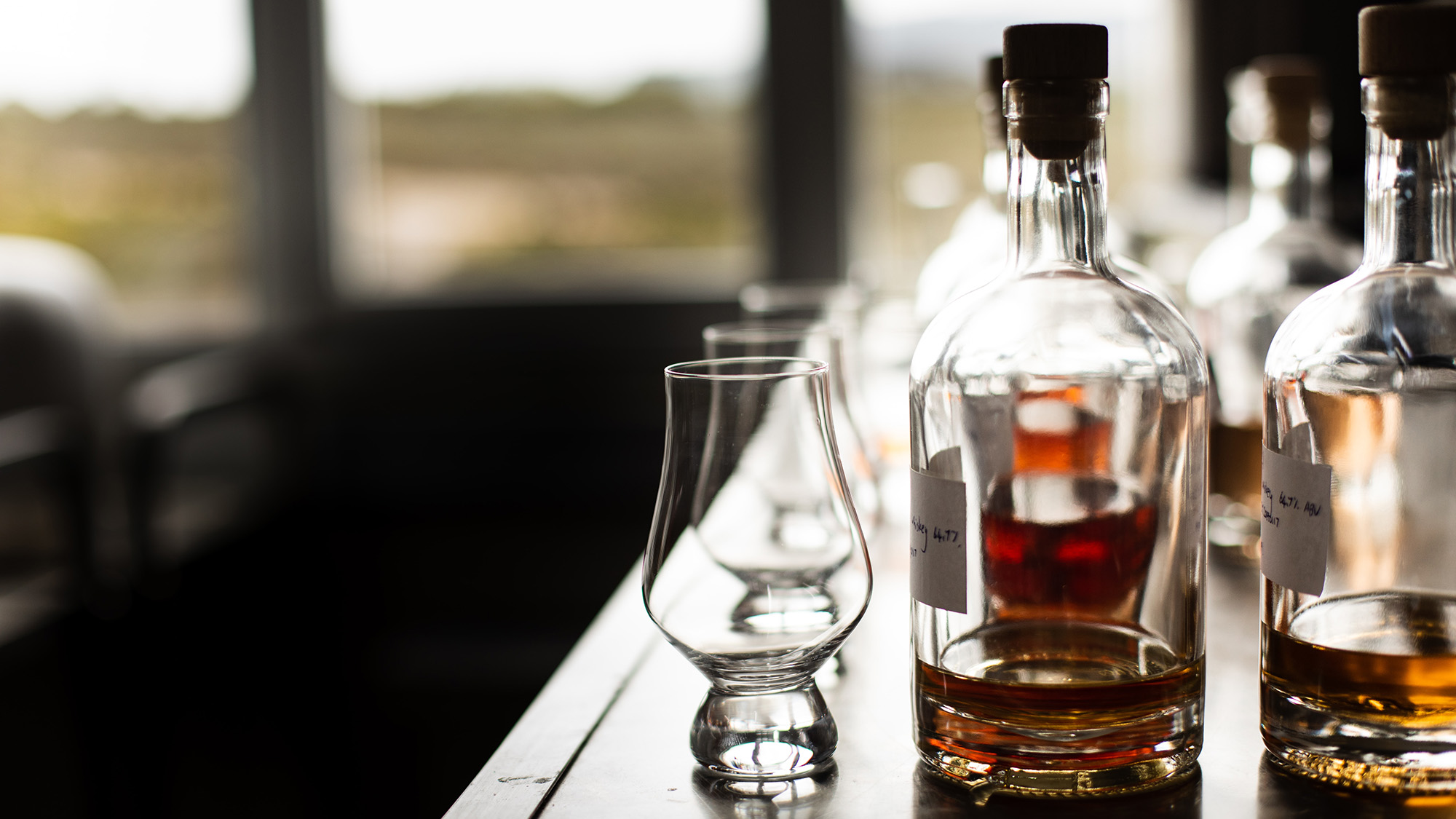 America makes damn good whiskey. Whether you're into bourbon, rye, single malt, or something a bit more fringe, the whiskey that's currently being created in the United States is some of the world's best. Better yet, distilleries are getting more and more creative and are unveiling limited-edition bottlings seemingly every day.
From traditional favorites like Old Forester's Birthday Bourbon to brand new offerings such as the chocolate-leaning Raceking from Rabbit Hole, the opportunity to get your hands on impressive limited-edition whiskeys that are made in America has never been better.
Our list of the best limited-edition whiskeys that have been made in America in 2021 includes offerings from Kentucky, Utah, Vermont, Wyoming, and more. So without further ado, here are our favorites in no particular order:


Bourbon


Hirsch Single Barrel Kentucky Straight Bourbon Whiskey ($90)
Aged for a minimum of six years in Bardstown, Kentucky in new American Oak Barrels, the Hirsch Single Barrel Kentucky Straight Bourbon Whiskey is non-chilled filtered, combining a mashbill of 72% corn, 13% rye, and 15% malted barley. On the nose, it offers bold, dark cherry, roasted caramel, and cinnamon fragrances, and on the palate a marriage of herbs and soft peppery flavors take shape. The finish is long and dry with a sweet chocolate taste lingering afterward.
Angel's Envy 2021 Cask Strength Bourbon Whiskey ($230)
Bottled at 60.35% ABV, the Angel's Envy 2021 Cask Strength Bourbon Whiskey is made from "a handful of noteworthy barrels from its rickhouses," which have been "put through an extended finishing process in port wine barrels from Portugal. These special barrels bring forward distinct characteristics in the whiskey, giving each expression of Angel's Envy Cask Strength a unique nose, palate and finish."
Wild Turkey Master's Keep One ($175)
Master's Keep One combines mid-aged bourbons (eight to 10 years) with the complexity of a 14-year-old whiskey. Both whiskeys have been matured twice using new oak barrels that have been toasted and charred in the Tyrone G timber rickhouse. The finished product offers notes of toasted and charred oak, which result in an enticing aroma of sweet honey and brown spice, with bold vanilla, butterscotch, and caramel that evolve into a fresh and lingering toasted oak finish.
Maker's Mark 2021 Limited Release: FAE-02 ($60)
Maker's Mark 2021 Limited Release: FAE-02 is produced using double-heat-treated virgin French Oak barrel staves that undergo an infrared exposure prior to a flame toast finish. The process yields a Maker's Mark whiskey that exhibits a distinctly luscious mouthfeel. Unlike FAE-01, which used American Oak staves to amplify notes of dark leathery tobacco and barrel-aged fruit, FAE-02 is characterized by a gentler, mouthcoating palate of light caramel and deep oak.
Buffalo Trace French Oak Bourbon ($70)
Buffalo Trace is revisiting its French Oak series, with a new release available beginning in late November. In 2013, Buffalo Trace obtained a small number of barrels from France, filled them with its Mash #1, the same mashbill used to make Buffalo Trace, Eagle Rare and other bourbons from the Distillery.
Heaven's Door & Redbreast Irish Whiskey 10YR Straight Bourbon Master Blenders' Edition ($100)
Bottled at 50% ABV, the Master Blenders' Edition features Heaven's Door 10-year aged Straight Bourbon finished in Redbreast's signature Single Pot Still Casks for 15 months, extracting flavor from single pot Irish whiskey and formerly Spanish sherry. The end result is a whiskey that delivers prominent notes of nuts, spice and leather, as well as the influence of sherry, citrus, dark fruit, and a subtle sweetness of Yellow Man from the Redbreast casks. It is best enjoyed neat or on the rocks or with a splash of water.
Orphan Barrel Copper Tongue ($399)
Nestled in a valley with a spring-fed creek in an area known for its population of copperhead snakes, the stocks for Orphan Barrel Copper Tongue were discovered by Nicole Austin in Cascade Hollow Distilling Co.'s single story rickhouses. These rickhouses draw inspiration from traditional Scottish barrel storage and are a rather unique feature in the U.S. that helped impart a unique character onto the liquid. Tullahoma, however, is also a part of each whisky produced at Cascade Hollow Distilling Co. From using the Cascade Spring water that runs through ancient limestone to the distillery working with local farmers, Copper Tongue is distinctly inspired by American traditions.
Old Forester Birthday Bourbon 21st Edition ($130)
Bottled at 52% ABV, the 2021 release is made from 12-year-old barrels. To be exact, this batch comes from 119 barrels filled on April 16, 2009, all matured in Warehouse G. A golden citrine in color, the bourbon offers aromas of berry and dessert components. Red raspberry preserves join plump, juicy blackberries and dried strawberries to set the tone, nestled in a bed of dried herbs and balanced with vanilla creme brulee, subtle pecan, rich maple syrup, and cocoa. The palate is rich and inviting with a velvety mouthfeel that delivers notes of buttery caramel, burnt sugar, and a touch of fresh baked Linzer cookie. The finish is described as "length and warm with subtle dryness. Subdued notes of chocolate, raisin and cool herbs linger in the shadow of stark oak spice."
Old Fitzgerald Bottled-in-Bond Fall 2021 Edition ($110)
The Old Fitzgerald Bottled-in-Bond Fall 2021 Edition features bourbon pulled from rickhouse EE and is the second 11-year-old of the nationally released series, with the first released spring 2018. Comprised of barrels produced in spring of 2010, and bottled in spring of 2021, the eighth national release ushers in the latest hallmark series to the bottled-in-bond legacy.
Michter's US*1 Toasted Barrel Finish Bourbon ($100)
To make this special Toasted release, Michter's starts with fully matured barrels of its US*1 Small Batch Kentucky Straight Bourbon and transfers the whiskey into a second barrel made of 18-month air dried wood for additional aging. The second barrel has been toasted to precise specifications, but not charred. This year's release is exceptionally balanced and is the perfect complement for the fall and holiday season.
Four Roses 2021 Limited Edition Small Batch ($150)
Non-chill filtered and bottled at 114.2 proof, the Four Roses 2021 Limited Edition Small Batch features four different hand-selected batches aged 12 to 16 years. These batches represent four of the distillery's 10 distinct bourbon recipes – a 16-year-old Bourbon from the OBSV recipe (13%), a 14-year-old OBSQ (6%), a 12-year-old OESK (23%), and a 16-year-old OESV (58%).
Rabbit Hole Raceking Founder's Collection ($295)
Named in honor of Kentucky's time-honored tradition of horse racing, Raceking explores how malting organically expands the range of flavors in whiskey. The whiskey uses a chocolate wheat from Germany and a chocolate barley from the UK to achieve the aromatic top notes and rich essence of chocolate. When cooked according to Rabbit Hole's own methods and met with aging in wood-fired, toasted and charred new American Oak barrels, the "flavors of the whiskey become intricately nuanced," says a press release. Bottled at a cask strength of 54.6% ABV, the mash bill is 70% Corn, 13% Rye, 10% Malted Rye, 4% Chocolate Malted Wheat, 3% Chocolate Malted Barley.
Rye


WhistlePig The Boss Hog VIII: LapuLapu's Pacific ($500)
Continuing the epic circumnavigation voyage across the Pacific, The Boss Hog VIII features straight rye whiskey aged for nearly 18 years in new American Oak, followed by a double finish in high toast barrels that previously held small batch, single island, aged Philippine rum. On the nose, lush vanilla aromas give way to delicate tropical notes including under ripe bananas, freshly picked lemon, and molasses. The palate offers an abundance of fresh ground cinnamon with citrus zest, butterscotch, and light notes of toffee. The finish is rich with tanned leather, light brown sugar, nutmeg, and allspice with a long-lasting black pepper rye spice.
High West A Midwinter Night's Dram Act 9 ($100)
A Midwinter Night's Dram is High West's Rendezvous Rye finished in both Ruby and Tawny Port barrels for an additional 1 to 2 years. This year's release, Act 9, provides notes of dark fig and blackberry layered over that wonderful spice character that great Ryes have to offer. We recommend sipping this spirit neat to experience its many layers of complexity. This limited-edition blend of straight rye whiskeys opens with notes of muddled blackberries, honey-poached figs, chocolate covered cherries, toasted marshmallow, gentian root, star anise and hoisin sauce. On the palate, it offers refreshing sugar plums, blackberries, spiced bitter orange peel, toffee cookies aside an orange tea, fresh dates, cinnamon strudel, brown sugar glass, and dried thyme leaves. The finish yields aromatic bitters, pink peppercorn, violets and mint.
George Dickel And Leopold Bros Collaboration Blend ($110)
Dubbed the George Dickel x Leopold Bros Collaboration Blend, this union balances two different styles of rye whisky: Leopold Bros' Three Chamber Rye and George Dickel never-before-released traditional column still rye. The result is a rare, historically inspired blend of straight rye whiskies that is reminiscent of an era when heavy-bodied rye whiskies were served at bars and saloons across America.
Templeton Rye Oloroso Sherry Cask Finish ($50)
The limited-edition Templeton Oloroso Sherry Cask Finish was originally matured for a minimum of six years in first fill American oak flame-charred barrels. The whiskey was then finished in the finest oloroso sherry casks for an additional nine months. The 500-liter Oloroso Sherry casks were meticulously sourced from the Marco de Jerez region of Spain and once contained dry, full-bodied Oloroso sherry aged between eight and twenty years. The additional maturation time spent in the oloroso sherry casks accentuates the rye spice while adding subtle, alluring flavors and tropical fruit tones and nutty aromas.
Blackened x Willett Kentucky Straight Rye Whiskey Finished in Madeira Casks ($140)
The Blackened x Willett Kentucky Straight Rye Whiskey Finished in Madeira Casks starts with a base of low rye and high rye whiskey recipes that were hand-picked by Dietrich and Kulsveen from the Willett Family Estate Reserve Selection. The two tasted and experimented with a number of whiskeys before landing on the recipes that would be used in the final blend. Aged for an average of 6.5 years in white American oak casks, the whiskey graces the nose with hints of sweet rhubarb, brown sugar, corn husk, cigar box, and vanilla. The palate delivers flavors of buttery caramel, earthy mint, and fresh-cut hay, rolling into a finish with vanilla, cinnamon butter, and dark walnut.
American


Jack Daniel's Coy Hill High Proof ($70)
The limited-edition Jack Daniel's Coy Hill High Proof is bottled at proof points ranging from 137.4 up to 148.3 and marks the highest proof whiskey ever released from the Jack Daniel Distillery. The Coy Hill High Proof gives an aroma of seared oak and dark brown sugar with flavors of bold baking spices and a lingering finish of toffee, smoke and rich leather.
Wyoming Whiskey Single Barrel ($99)
Wyoming Whiskey Single Barrel is a rich, medium to full-bodied spirit defined by its western terroir. As a wheated bourbon, it delivers a flavor profile that is soft, yet complex, which sets it apart from more common rye-flavored single barrel releases. On the nose, the whiskey offers aromas from bittersweet dark chocolate, roasted almonds, and browned butter to dried dates with orange citrus blossom. The palate delivers cinnamon, dark chocolate, dried date, fig, and raisin as well as buttered pastry and orange citrus. The finish is long, smooth and eloquent with flavor notes that include dark dried fruits and candied orange peel.
2021 Buffalo Trace Antique Collection ($99)
The 2021 Buffalo Trace Antique Collection is made up of four whiskeys, William Larue Weller, Thomas H. Handy Sazerac Rye, Eagle Rare 17 Year Old, and Sazerac Rye 18 Year Old. This year, however, the lineup won't include George T. Stagg because the 15-year-old barrels do not meet the Distillery's taste standards for the Stagg brand.
Little Book Chapter 5 "The Invitation" ($125)
Little Book Chapter 5 is a blend of four different straight whiskies, three of which were distilled under Freddie Noe's watchful eye. Each was expertly blended to bring something unique to the final whiskey, making Little Book Chapter 5 greater than the sum of its individual parts. Bottled at 116.8 proof, Little Book Chapter 5 "The Invitation" features flavors of caramel and toasted bread with brown sugar undertones and a touch of sweetness. It is recommended to be enjoyed neat or over ice.