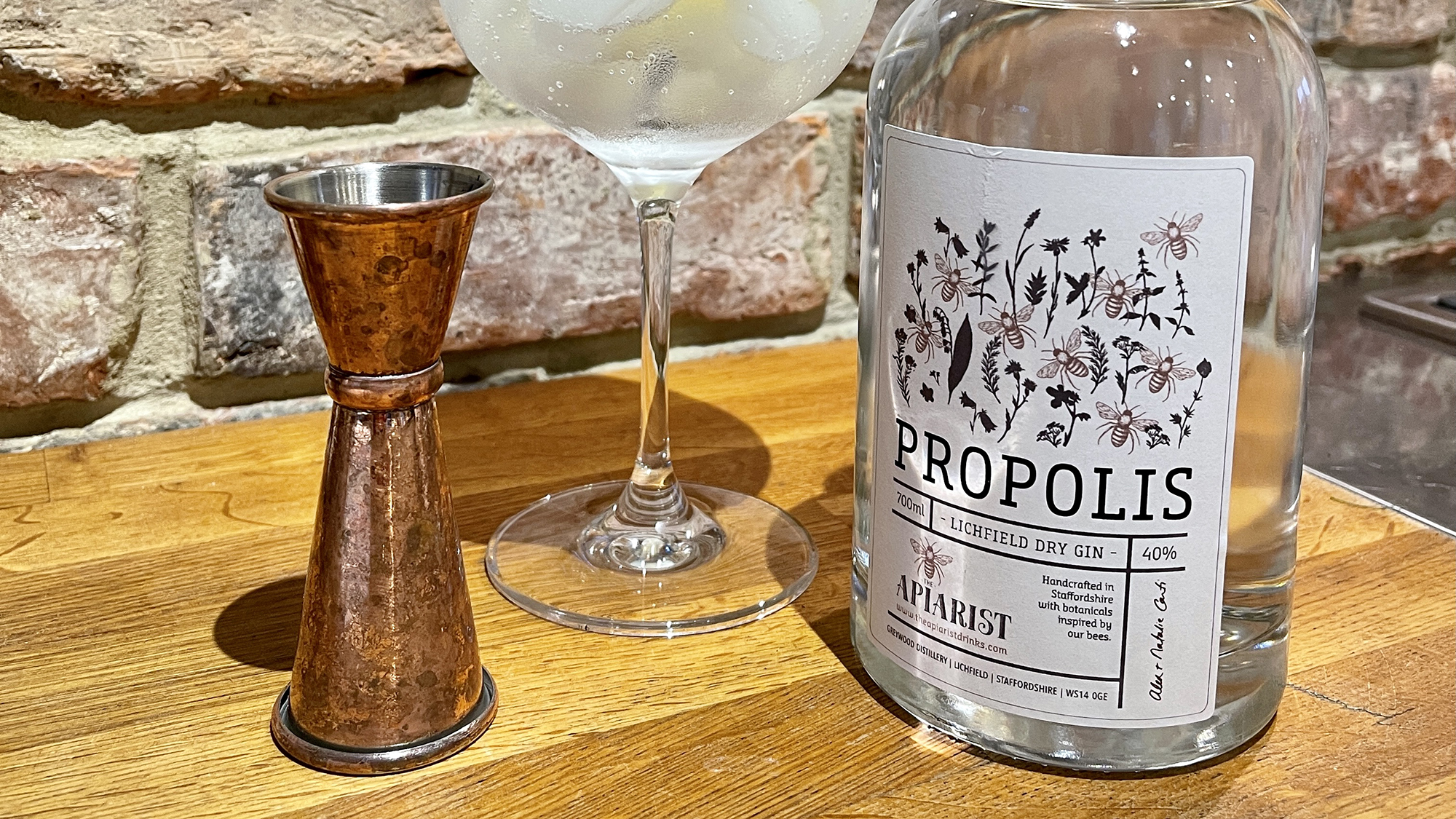 The Apiarist has unveiled Propolis, a brand-new London Dry Gin. The latest offering from the independent spirits label is its fourth product line to be released in less than 12 months, and follows the original honey-infused Apiarist Gin; its pink successor, the Forager Edition; and most recently, The Apiarist Rum. 
With the existing range built around the natural honey infusion process using the produce from their very own home apiary, founders (and husband and wife) Alex and Natalie Conti wanted to create a more traditional gin that still incorporated certain elements of the brand's beekeeping roots.
Handcrafted in Staffordshire, the 'Lichfield' (London) Dry Gin contains botanicals inspired by bees – the main one being propolis (a natural compound created from tree sap) and boasts warm citrusy notes combined with light floral hints, giving it a smooth finish and a natural freshness.
"The Apiarist spirits collection is just one element of a wider environmental project that was created as part of a sustained effort to promote biodiversity within our community," explained Alex Conti, founder of the Apiarist. "In addition to a growing range of natural honey-infused products, the project also includes an 'Adopt a Hive' initiative and a unique pollinator-friendly planting scheme (or 'bee forest') which holds the inspiration behind Propolis.
"Honey isn't the only thing that bees make… They also produce a compound called propolis by combining beeswax with the sap from needle-leaved trees or evergreens. Since officially unveiling our 'bee forest' this summer, we have seen an increase in the number of bees as we continue to restore native hedgerows and plant wildflowers and trees on the local piece of land we have dedicated specially to this cause.
"Due to the ongoing success of The Apiarist range, we wanted to introduce a brand-new product with yet another inspiring story behind its creation and distillation process. As one of the only gins on the market to contain this distinctive ingredient, we enjoy knowing that our bees have (yet again) made something to be proud of and can't wait to see how Propolis is received by both new and existing customers alike."
Bottled at 40% ABV, Propolis is priced at £39 per 70cl bottle and can be purchased from The Apiarist's online store.