The Balvenie has introduced its first-ever collaboration with Royal Selangor. The new offering from the Speyside distillery and the Malaysian pewtersmith is a tribute to shared passion for time-honoured craftsmanship.
The Balvenie x Royal Selangor Collector's Box starts with the case, which is made from walnut wood and encased in painstakingly hand-hammered pewter (there are more than 800 precise knocks), a signature of the Malaysian brand. It takes up to six days just to finish. What comes inside is up to you as uyers can choose three bottles of The Balvenie expressions that are 30 years and above to total a minimum value purchase of £41,800 ($56,162 USD). Just 15 of the cases are being made in total.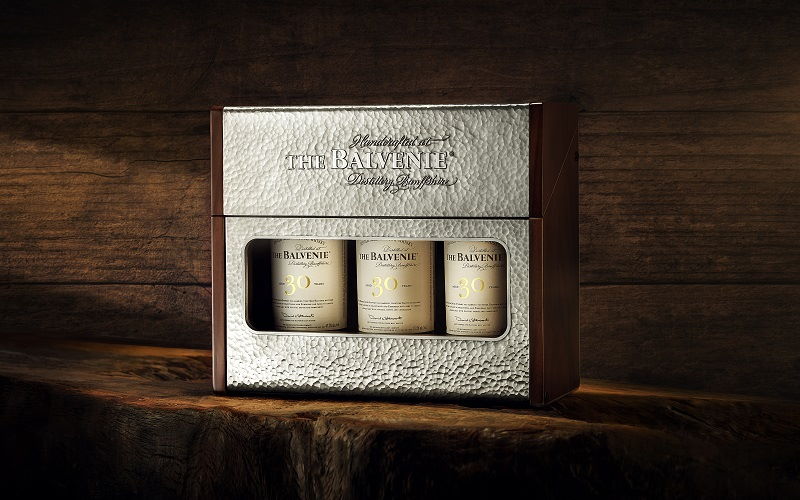 "We are excited to work on this debut bespoke collector's box with The Balvenie," said Chen Tien Yue, Executive Director of Royal Selangor. "Collaborating with a partner that places just as much emphasis on craftsmanship, it was only fitting that we chose to use Royal Selangor's signature hand-hammered finish. I hope The Balvenie's customers will appreciate and treasure this special piece that stores their favourite The Balvenie whiskies."
"It is an honour to partner with Royal Selangor as when the world around us is automating, and true craftsmanship is becoming a rare commodity, we truly value those who share the same dedication, passion and heart for it," commented Brett Bayly, The Balvenie's Regional Brand Ambassador for Malts in Southeast Asia. "This collaboration represents our time-honoured craftsmanship over generations and we are proud to have produced one of the finest bespoke collector's boxes to house our unique top range whiskies."
If you can't get your hands on the box or simply don't want to splash around that much cash, but still want a piece of the collaboration, head over to the selection of gift packs available at William Grant & Sons e-store on LazMall beginning December 21. The Balvenie 12 Year Old DoubleWood, 14 Year Old Carribean Cask, and 17 Year Old DoubleWood single malts will be available for purchase tand come with a Royal Selangor handcrafted pewter based Whisky glass.
For more information on the Balvenie x Royal Selangor Collector's Box, visit Royal Selangor's official website.