Australian whisky is on the rise and it's Lark Distilling Co that continues to set the standard. Release after release they push the boundaries of whisky, not just within their home continent, but globally. Their most recent expression is the Lark Single Malt Whisky Rare Cask Tokay 100, which was aged in wine barrels from 1922, making those wooden casks 100 years old.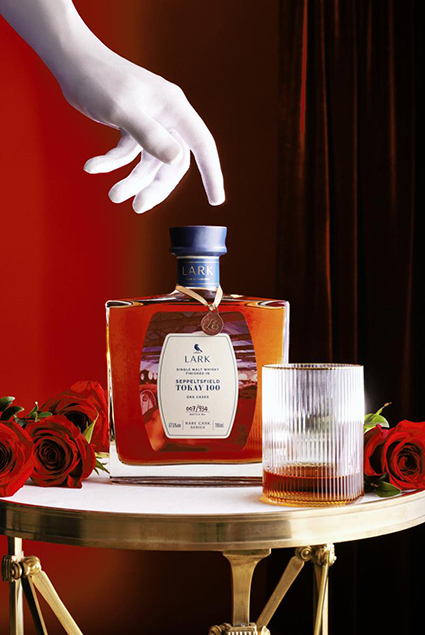 The limited-release whisky has been developed in collaboration with Seppeltsfield Winery in the Barossa, as part of Lark's Rare Cask Series, and is set to be the only Tokay Rare Cask release of its kind. The Tokay 100 whisky has been built on a pursuit for the extraordinary through unearthing some of the world's most unique casks, and is designed to be cherished for years to come. Just 934 bottles of this rare drop will ever see the light of day
"The release of this rare drop is a milestone for Lark, and a coveted offering for whisky enthusiasts," said Head Distiller at Lark Distilling Co. Chris Thomson. "We approached this series with the promise of creating something unique and unforgettable – the ultimate collectors item. Our relationship with Seppeltsfield Winery has opened the door to some of the rarest fortified wine in the world., and we discovered and sniffed out these Tokay casks from Seppeltsfield's treasure trove of museum fortifieds in the Barossa. They have nurtured and matured Seppeltsfield's fortified sweet Muscadelle, resulting in an intense and powerful whisky infusion."
Finished in barrels that until recently have held a blend of museum Tokay, containing a precious parcel from the 1922 vintage. This whisky was developed using Lark's proprietary and world-first filtration process, an alternative to standard chill filtration, which saw one of three barrels filtered to reduce the viscosity of the liquid, creating more floral notes on the palate. The distillery then married the whisky with the other two barrels, giving the drop more complexity and ultimately bringing the Tokay to life. The resulting expressions are unique single malt celebrations of character, culture, and the historic Tokay 100 casks in which they are finished.
On the nose, the Lark Tokay 100 Rare Cask offers aromas of manuka honey drizzled over raisins, almonds. and toffee. The palate finds creamy coffee fudge on arrival, with apricot conserve and developing honeycomb notes. The finish offers a long and warming complexity with muscovado and iced tea.
"We are thrilled to continue to work closely with the team at Lark to develop this one-of-a-kind whisky," said Chief Winemaker, Fiona Donald at Seppeltsfield. "Our museum blend of Tokay is deeply layered, showcasing a rich, yet savoury profile with roasted coffee notes. A drop so rare, this is the perfect way to honour Seppeltsfield's treasure trove of museum fortifieds dating back to 1878".
Bottled at 57.5% ABV, the Lark Single Malt Whisky Rare Cask Tokay 100 is priced at $1,000 per bottle. For more information or to make a purchase, head over to the brand's official website.
In March, Lark Distillery began celebrating its 30th anniversary with the release of Rare Cask Para 92.