Tomatin distillery has unveiled its PX Cask Single Malt Scotch whisky, a new limited-edition expression available exclusively in the UK.
Aged in a Pedro Ximenez Sherry Butt, personally selected by Tomatin's team, the whisky has been matured to develop a complex flavor profile, offering a unique mix of dark sweetness and bitter notes.
On the nose, Tomatin PX Cask offers maple syrup, candied walnuts, prunes, and rum-soaked sultanas as well as bitter aromas such as dark chocolate, treacle, espresso, and leather. With time, dried fruit, apricot, and raisins emerge with a touch of cinnamon. The palate delivers cherry and plum liqueurs, a journey of golden syrup and Jamaican ginger cake. The finish finds a bold mix of dark sweetness, bitter notes and spice lingers.
Although emboldened by bitter fragrances, the whisky offers a sweet, spiced guise on the palate, with notes of cherry and plum liquors, golden syrup and Jamaican ginger cake, while preserving the signature distillery character of dried tropical fruits.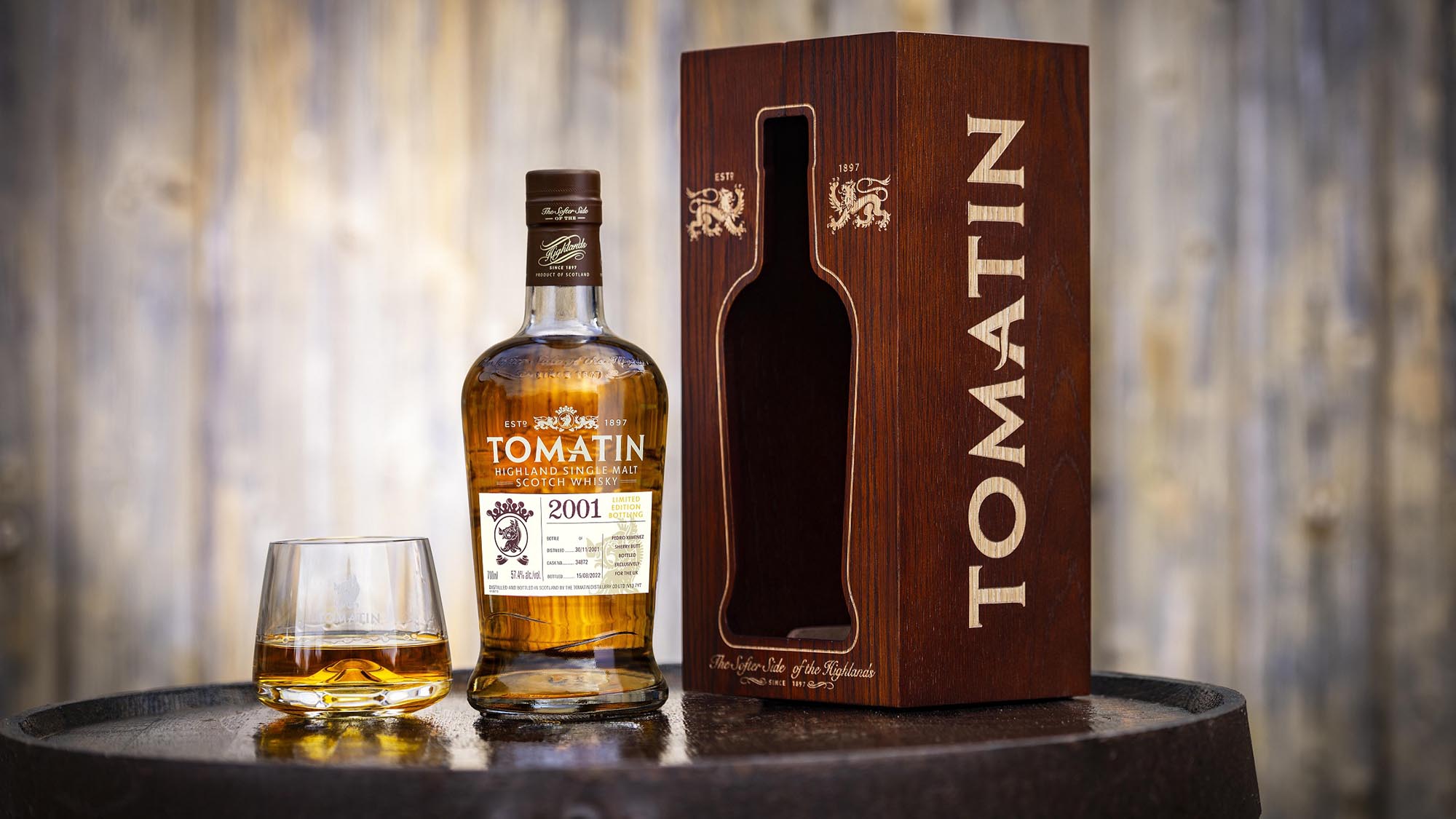 The new release comes presented in Tomatin's premium bottle and single cask packaging, crafted to reflect the quality of the whisky. Featuring the signature hogs head, signifying Scottish hospitality, the bottle is presented in a solid display box, ideal for collectors or to gift someone special.
"Our latest UK Exclusive is one of exceptional character. The whisky has been aged to perfection and the result is a rich and complex flavor profile," said Graham Eunson, Master Distiller at Tomatin Distillery. "The interplay between this outstanding single malt and the PX cask is simply wonderful. The bitterness of dark chocolate, treacle, espresso and leather are expertly drawn out, while the signature distillery character shines through. We strive to create exceptional whiskies that capture the spirit of our Highland home, and this latest release is another fantastic example.
"Interest in Tomatin continues to grow from both consumers and the industry, and we're delighted to have seen this recognised in our recent award-wins, including being named 'Outstanding Spirits Producer of the Year' at the 2022 International Wine & Spirit Competition, and collecting another Gold award for our Legacy single malt at this year's awards."
Tomatin's origins date back to the 15th century, with the first formal distillery established in 1897. Passing through generations of craftspeople working at Tomatin, many for their entire lives, the distillery is embedded in the community. Today Tomatin is renowned for its collection of smooth whiskies, comprising a core selection, limited-edition range and premium archive collection.
Bottled at 57.4% ABV, Tomatin PX Cask is priced at £395 per 70cl bottle. For further information, head over to the brand's official website.
Last month, Tomatin unveiled a limited-edition 45 Year Old single malt whisky.