Woodford Reserve just unveiled its Winter 2022 Master's Collection release – Historic Barrel Entry. The dark and robust whiskey is available as of today.
Made with newly-distilled whiskey that went into the barrel at 100 proof, the Woodford Reserve Winter 2022 Master's Collection release was made with newly-distilled whiskey that went into the barrel at 100 proof, similar to the bourbon of the 19th century, which had a barrel entry of 100 to 103 proof. After the repeal of Prohibition, barrel entry proof levels began to increase. The present barrel entry proof standard that was set in 1962 is 125 proof. The barrel entry proof of "new make" plays an important role in the maturation process.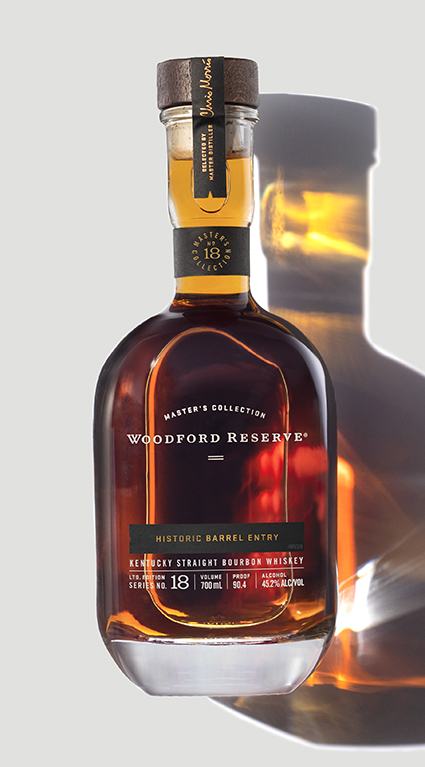 "A lower entry proof seems counterintuitive when one thinks of getting more flavor from the new, charred barrel. In fact, many of the barrel extractives we desire are more water soluble than they are alcohol," Morris said. "By having a lower entry proof (in other words more water in the barrel than the Woodford Reserve standard of 110 proof entry) will result in richer, sweet characteristics being absorbed from the barrel's famed red layer."
On the nose, the whiskey offers an alluring medley of vanilla bean and dried apple dusted with nutmeg, clove, and cinnamon with a hint of cocoa that leads to aromas of roasted coffee and hazelnut softening into notes of dark cherry and plum muddled with spearmint. The palate finds rich toasted oak tempered by overripe banana and a medley of cooked berry fruits. Hints of leather, coffee, and baking spice trail into minty dark chocolate. The finish features a lingering finish of charred oak, leather, and orange oil.
This year's limited-edition release marks the 18th edition of the Woodford Reserve Master's Collection. It is available in select U.S. and global markets and has a suggested retail price of $129.99 for a 700ml bottle.
For more information, head over to the distillery's official website.
The Winter 2021 Master's Collection release was the Woodford Reserve Five-Malt Stouted Mash, which exhibited the flavors of classic beer.
Last month, Woodford Reserve unveiled the 2023 edition of its Double Double Oaked Bourbon. The annual series celebrates Master Distiller Chris Morris' commitment to innovation and craftsmanship.