Long-time vegan Woody Harrelson has teamed up with wellness entrepreneur Amy Holmwood to launch the Holistic Spirits Company with two initial products, Origen Vodka and Harmony Gin. The new offerings are crafted using certified green distilling methods, marrying "science, nature, and artisanal distillation," according to the press release.
Both Origen and Harmony are infused with a proprietary, natural blend of artichoke leaves, elderberries, green tea leaves, and muscadine grapes (indigenous only to the American South). In addition, Harmony Gin also includes juniper berries, coriander seed, hyssop, lemon peel, lime peel, angelica root, and orris root. The resulting spirits contain zero sugar, artificial flavors or colors, and no GMOs.
Origen is made with organic white wheat, while Harmony is made with organic corn; each carefully researched and tested to enhance flavor profiles and ingredient functionality. Both spirits are distilled using sustainable initiatives and green distilling techniques.
"Our team is passionate about using plant science to elevate every cocktail with all natural and functional ingredients," says Holmwood. "Our mission is that Holistic Spirits Company introduces a new era of educating people on ways to have better spirit choices similar to the innovation that has happened in the soft drink and tea beverage industry."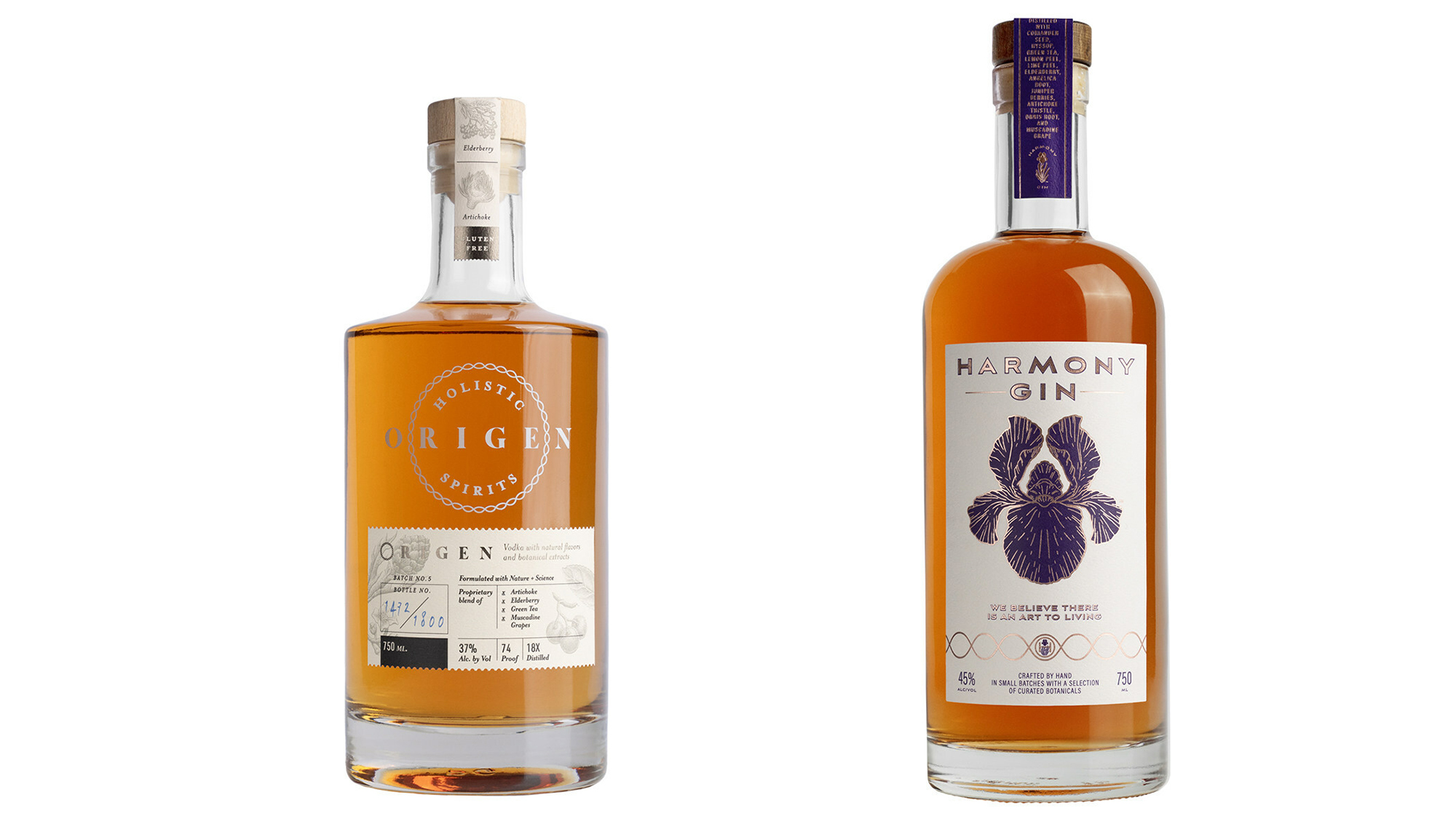 Inspired by overcoming her own series of health issues through holistic methods, Holmwood attained a Master's Degree in Biotechnology Enterprise from John Hopkins University and a Nutrition Sciences Certification from the Stanford Center for Health Education. With the help of Dr. Nathalie Chevreau PhD, RD and years of rigorous testing and research, the team had a final formula ready for production in the spring of 2022.
Once Harrelson tasted Holmwood's innovative Origen blend he knew "he had to help bring the Holistic Spirits Company's products to the world," says the release. "For years I've wondered who was going to come along and put my favorite superfoods into spirits," says Harrelson. "I think it's a marvelous thing that Amy came up with, and I admire her sense of purpose. It was a no-brainer to get involved from the start."
"No alcohol will ever be healthy, but that doesn't mean we can't be more conscious of what we're putting in our bodies while we enjoy spirits, in whatever setting that may be," says Holmwood.
The first spirits from Woody Harrelson, Origen Holistic Spirits (37% ABV) will retail for between $39.99-$45.99 per 750ml, while Harmony Gin (45% ABV) is available for between $40.99-$46.99 at select retailers in California, District of Columbia, Florida, Louisiana, New Jersey, New York, and South Carolina, and is available online in most states at ReserveBar.com. For more information, head over to the brand's official website.