When it comes to finding the best of the best in the Cognac world, the XO category provides both the quantity and the quality necessary to really dig into what distinguishes a particular bottle and maison. XO stands for "Extra Old": XO cognacs, as of April 2018, are made only from eaux-de-vie aged for a minimum of 10 years–an increase from the minimum of six years it was up until that point.
Unlike the several-thousand dollar bottles produced by some of the major houses, smaller producers can afford to produce XO Cognac, making for a much wider selection when it comes to choosing a bottle. Still, the price point for consumers remains high–almost always above $100–which means people are looking for real quality. Furthermore, the extended aging period means that everything from the terroir to the cellar to the cellar master all must play an equally important part in the creation process.
Cognac XO is not something every house does well. Some maisons are better with younger expressions and don't have the means or facilities to maintain the quality of the product for a decade. Others, meanwhile, tend to concentrate on selling more bottles of younger stuff and simply have no interest in the XO category.
Those who really want to taste a large quantity of Cognacs of high quality would do best to look to the XO category. Seemingly every bottle released is completely unique, each bursting with their own aromas and flavors that speak of the land, people, and cellars they come from.
To create our list of the Best Cognac XO Bottles to Sip in 2021, we reached out for samples from producers big and small, dug through local liquor stores, searched old bar shelves to find the crème de la crème. What we learned is that the world of XO Cognacs is truly expansive and the top options are truly some of the finest spirits in the world.
So without further ado, these are bottles of Cognac XO you should get your hands on in 2021:


Prunier XO Carafe
Some Cognacs take you on majestic journeys, others are filled with centuries old elegance, Prunier XO Carafe tastes of home. Simply, it warms your heart. It's soft and embracing like a mother's arms. It's calming, subtle, and filled with intimate knowledge–not the kind taken in on a journey to the unknown, but one of reexperiencing the familiar and remembering a warmth that is ingrained in your core. The Carafe is the younger of Prunier's two XO offerings. It's been aged for 15 years in French oak at Maison Prunier's cellars by the River Charente. It represents the continuity of the family style and evokes the type of Cognacs the Company used to sell 100 years ago.
Find it on The Whisky Exchange


Camus XO
It's hard to think of any word other than "majestic," when it comes to describing the Camus XO. It's complex and enticing, refusing to be pinned down to a single place. In that way, it offers something truly unique in the world of spirits, which more and more attempt to explore the terroir of the smallest microclimates. Camus XO matures for at least 10 years in Limousin oak casks. The use of lightly toasted fine grain woods helps preserve a balance between highly aromatic compounds and subtle tannins. The family utilizes different ambient moisture contents within its cellars to help the oaking process, moving the barrels selected for the XO from areas of relatively high moisture to drier areas as they get older.
Buy it on Drizly


Martell XO
Martell XO embraces tradition through cultivation by mixing the region's most-heralded grapes with those that helped the French brandy house build its individual style. Rich and robust, the XO welcomes drinkers to the upper market of Cognac consumption. Martell is known for its emphasis on the Borderies region of Cognac, but here, it's the grapes of Grande Champagne that grab the attention, supported by those from the Borderies. The XO is made up of eaux de vie aged from a minimum of 10 up to 35 years and aged in Tronçais oak. It comes in a striking arched bottle, giving a hint to the spirit's bold personality.
Find it on Drizly


Hennessy X.O Limited Edition by Frank Gehry
Near the end of 2020, Hennessy unveiled a limited edition of its Hennessy X.O featuring bottles designed by iconic architect Frank Gehry. The liquid inside is the same as lovers of the Giant Cognac house have come to expect. The bottle also celebrates the 150th anniversary of the expression. As Renaud Fillioux de Girande, eighth generation master blender for Maison Hennessy, puts it, "Hennessy XO is the Cognac for every occasion. It's timeless – the fact that its inspiration never changes and never bends to the whims of trends means that it exists in a realm beyond fashion. As time goes by, we have noticed that people are appreciating a wider array of moments for tasting than they ever have before. Its versatility is what I think makes Hennessy XO so contemporary and relevant today."
Purchase it on ReserveBar


Braastad XO Fine Champagne
A fantastic Fine Champagne blend made with at least 50% of grapes coming from Grande Champagne, the Braastard XO Fine Champagne is a complex Cognac cultivated from the two premier crus that delivers bold and well-rounded flavors. The Cognac has been aged between 15 and 20 years, resulting in an offering that is spicy, aromatic, and idiosyncratic. On the nose, imbibers should expect leather, truffles, as well as fresh fruit aromas. The palate explodes with violet, vanilla, and spice along with earthy notes.
Find it on Wine Searcher


Frapin Cellar Master Edition No° 1 Cognac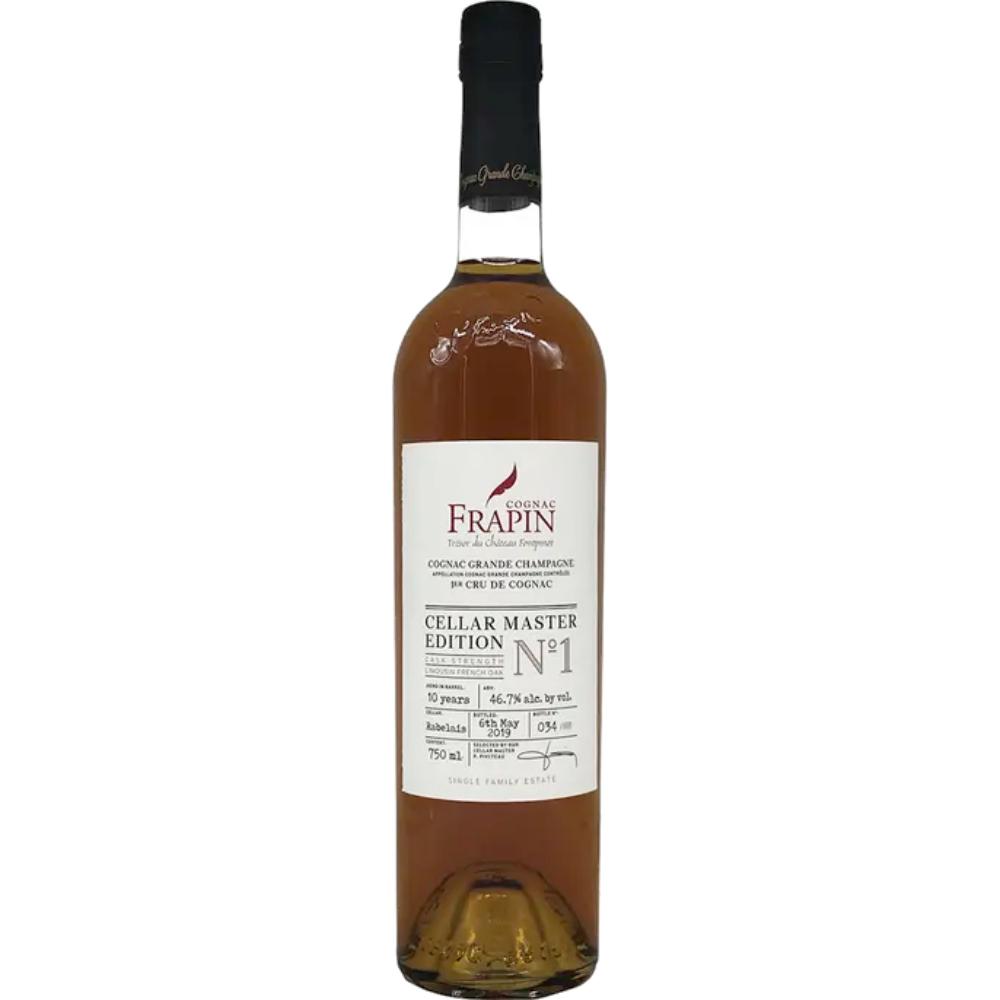 Patrice Piveteau has devoted his life to Cognac and the past 29 years to Frapin. It has taken that long to learn the fields, the grapes, the terroir, and the tradition of one of Cognac's oldest houses. After dedicating decades to maintaining and perfecting the "Frapin style," last year he unveiled an offering with his own influence, the Frapin Cellar Master Edition No° 1 Cognac. With his first Cellar Master Edition, Piveteau wanted to "explore a new aromatic palette." Therefore, he chose to release a cask strength variety, something rarely seen in the Cognac world. The result is more than just a taste or an aroma, it's an experience. As Patrice explains, it's like "sipping straight from the barrel with a straw."
Buy it at Total Wine


Cognac Park XO Grande Champagne
Cognac Park XO Grande Champagne finds the Distillerie Tessendier brand reaching into Cognac's higher echelon. It's a unique Brandy within Park's range as it avoids using any grapes from the Borderies region, where their estate is located. Rather, the XO Grande Champagne only uses fruits from the commune's most famed cru. Made with 100% Ugni Blanc grapes from the Grande Champagne, the XO Grande Champagne spends its first 12 months maturing in new Limousin oak barrels. Then, the eaux-de-vie is transferred to red wine used casks where it spends at least 10 years.
Find it on Wine Searcher


Courvoisier XO
When it comes to Cognac, XO is the creme de la creme, and the Courvoisier XO is one of the finest expressions of this grade available on the mass market. It is a selection by the brand's Master Blender of beautifully matured eaux de vie, aged from 11 to 25 years, to highlight the complexity and richness of cognac aromas. The style of the XO is enduring and it doesn't just change every year with new bottles, the flavors and smells found here express what Courvoisier chooses as the taste of their maison.
Purchase it on Drizly


Hine Antique XO
2021 marks the 101st year of Hine Antique XO Cognac. Blended with eaux-de-vie exclusively from Grande Champagne, this Hine XO Antique is a relic from the times of Georges Hine brought to life for the modern Cognac connoisseur. The recipe was developed in 1920 by Hine himself, and was relaunched in 2010 by the Cognac house as a single cru XO. The 40 different Grande Champagne eaux-de-vie have been aged for a minimum of 10 years in traditional French Limousin oak casks.
Buy it on Drizly


Remy Martin XO
Described as "opulent, radiant, refined," Rémy Martin XO is the signature release of the iconic house's Cellar Master. To create the product, he expertly blends up to 400 different eaux-de-vie in an effort that delivers full aromatic complexity. On the nose, it offers aromas of late summer fruit, combined with rich floral notes of white flowers. The palate is opulent with mature flavors of juicy plums and candied oranges, with a hint of hazelnuts and cinnamon. The finish is luscious and rich and lingers in the mouth.
Purchase it on Drizly


Maison Prunier Tres Vieille Grande Champagne
Maison Prunier Tres Vieille Grande Champagne Cognac was awarded an Outstanding Gold at the 2020 International Wine & Spirits Competition, and for good reason. It is a truly old and magnificent example of what the Cognac region's premier cru is capable of. It's also a bottle that remains close to our hearts as it was the first bottle of XO we ever tried–many years ago at this point. It's beautifully smooth and elegant with comforting spices. The palate is silky with bitter orange and floral flavors, along with rancio notes, fresh hazelnuts, dark chocolate and toffee.
Buy it on Zachys