Limited-edition Scotch Whiskies are the crème de la crème of the spirits world and many of the best distilleries have been unveiling treasured expressions in the early days of Fall 2020. No other spirits category inspires such high prices and resale value as Scotch, though Cognac comes close and Bourbon, Tequila, and Rum have all seen recent increases.
These limited-edition Scotch Whiskies range in price from around $65 to the tens of thousands. Many are later resold at auctions for even higher prices. When people talk about investing in expensive Whisky, these are the types of bottles they are talking about.
If you're a Whisky fan with some extra dough lying around for the holidays who just wants to sip some of the finest Scotch around, however, these bottles are great for that too, actually they are some of the best. After all, Whisky is made for drinking.
While there are certainly many reasons to want to enjoy expensive Whisky, including the incredible weight of existential dread and possibly looming apocalypse that have come to define 2020, we can't think of a better way to get through a presidential election, Thanksgiving with the in-laws over Zoom, and the real possibility of being stuck inside our own residences for the next several months than with one of the limited-edition Scotch Whiskies by our side.
Here are 25 Limited-Edition Scotch Whiskies To Get You Through 2020, priced from low to high (prices may vary from seller to seller):
Matured exclusively in a combination of Oloroso and Pedro Ximinéz Sherry butts, the Scallywag Winter Edition Speyside blended malt has been bottled at a natural cask strength of 52.6% ABV. According to the distillery, the deep amber colored whisky displays bold notes of dark fruits, rich cocoa, subtle tobacco, and warming winter spice. While this particular Whisky may not be one that sees exponential growth in value over the years, we certainly appreciate its seasonal scarf and delicious flavors. The Whisky retails for $65.
Highland Park Cask Strength Release No.1
To create Highland Park Cask Strength Release No. 1, whisky maker Gordon Motion married together casks that were predominantly Sherry seasoned American oak of varying ages. He focused on creating a balance of flavor that was indicative of the distillery's style. On the nose, the Whisky features aromas of heather honey and freshly grated nutmeg. The palate delivers molten toffee-logfire and sun-ripened citrus fruit. The finish lingers with peat smoke. The limited-edition Scotch Whisky retails for $90.
The limited edition Glenmorangie A Tale of Cake Whisky is the result of Glenmorangie's director of whisky creation, Dr Bill Lumsden, experimenting with Tokaji dessert wine casks. As part of the release, the Highlands distillery is teaming up with iconice pastry chef Dominique Ansel to create a "caketail." Lumsden says the Scotch evokes memories of when he would bake with his grandmother and the pineapple upside down cake his daughter made him for his birthday. The Whisky is currently on sale for around $100.
Diageo 2020 Special Releases Collection
The 2020 edition of the Diageo Special Releases Collection features eight Whiskies from eight different distilleries. All the limited edition Whiskies are bottled at cask strength and are some of the more unique offerings under the spirits giant's umbrella of Scotch brands. Included in the 2020 lineup are, Cardhu 11-Year-Old, Cragganmore 20-Year-Old, Dalwhinnie 30-Year-Old, Lagavulin 12-Year-Old, Mortlach 21-Year-Old, Pittyvaich 30-Year-Old, Talisker 8-Year-Old, and The Singleton of Dufftown 17-Year-Old. The sampler set only costs $110.
Aberfeldy 18 Years Old French Red Wine Cask
The Aberfeldy 18 Years Old French Red Wine Cask Whisky was initially aged 18 years in a combination of first fill Bourbon, refill, and re-char casks. Then it went through a second maturation period of up to 5 months in French wine casks from Pauillac, a French appellation in the Médoc wine region of Bordeaux. The casks provide notes of black cherries, blackberries and a cedar wood spice. Therefore, Aberfeldy's signature honey and creamy vanilla notes are invigorated with swathes of plush ripe fruits and nutty aromas to create an elegant and fruitful Scotch. Bottled at 43% ABV, the Whisky is priced around $125 USD.
The Macallan Edition No.6 honors the water that gives life to the distillery and surrounding land, as well as marks the end of a chapter, as it will be the final addition to the Speyside distillery's celebrated Edition Series. Whisky maker Steven Bremner took his inspiration for Edition No.6 by choosing five cask styles that embody unique stories related to the river and its unparalleled natural landscape. The resulting Scotch delivers aromas of fresh fruits, nutmeg and toffee merged with oak and flavors of ripe plum, vibrant sweet oranges and cinnamon, developing into spicy fresh fruits and creamy chocolate and toasted oats at the finish. The Whisky is currently on sale for $150.
Compass Box Hedonism Felicitas
The largest single component making up the Compass Box Hedonism Felicitas was distilled in 2001 at the Port Dundas Distillery and is full of wood spice, toffee and honey. A third of the recipe was made in the 1980s at the Strathclyde Distillery, providing vanilla cream and orchard fruit notes. Barrels filled with spirit from the North British Distillery in the 1990s complete the recipe and lend passion fruit and cardamom notes. The Whisky is on sale for $175.
Orphan Barrel Whisky Co. Muckety-Muck 24 Year Old
Muckety-Muck 24 Year Old Single Grain Scotch is made from Whisky from the now shuttered Port Dundas Distillery. Six variations of the bottle label are available, each featuring Muckety-Muck boasting a Scottish tartan sash in either red, green, blue, gray, yellow or orange. This limited edition Whisky and caricature are a tribute to traditional Scottish culture and Port Dundas' spirit animal: the pig. It offers crisp fruit and light toasted oak flavors with a butterscotch vanilla finish. The Whisky is on sale for $225.
Bruichladdich Octomore 11 Range
The new range of heavily peated Scotch Whiskies from the Islay distillery includes three expressions.
Octomore 11.1 is a single malt that matured for five years in first-fill ex-American Whiskey casks from Jim Beam, Heaven Hill, and Jack Daniel's. Bottled at 59.4% ABV, Octomore 11.1 was malted to 139.6 PPM (phenol parts per million).
Octomore 11.2 was also malted to 139.6 PPM. It matured in two separate casks: One quarter of the Whisky was aged in Pauillac ex-wine casks, while the remaining three quarters were aged in ex-American whiskey casks before being transferred into St Julien wine casks for 18 months. In total, the whisky was aged for five years on Islay before being bottled at 58.6% ABV. Unlike the other Octomores in the range, Octomore 11.2 will be available online via the Bruichladdich official website and in global travel retail.
Octomore 11.3 also matured for five years in first-fill American whiskey casks from Jim Beam, Heaven Hill, Buffalo Trace, and Jack Daniel's. Malted to 194 PPM, the Whisky was bottled at 61.7% ABV.
The limited-edition Scotch Whiskies are priced between $230 and $300.
Ardbeg Traigh Bhan 19 Year Old Batch 2
The 2020 edition of the Ardbeg Traigh Bhan 19 Year Old was matured in American oak and Oloroso Sherry casks. In comparison with last year's version, it possesses "an altogether more silky-smooth character, thanks to a higher proportion of 1st-fill Bourbon casks, alongside refills and Sherry casks," says the distillery. On the palate, an intensely salty mouthfeel shifts like the tides into soothing medicinal notes, followed by salted peanut brittle, smoked pineapple and lime juice, says the distillery. The Whisky is on sale for around $300.
Royal Lochnagar 175th Anniversary Whisky
Aged in Pedro Ximénez and oloroso Sherry-seasoned casks, Royal Lochnagar 175th Anniversary Whisky features aromas of mango, melon, hints of wood, bracken and brambles. On the palate, flavours of chocolate and light coffee blend seamlessly with sweetness and juicy acidity. The finish is said to be long and dry, with a hint of sandalwood. The Whisky is on sale for $325.
The seventh release of Balvenie Tun 1509 is a combination of 21 hand-selected casks – four American oak barrels, 10 sherry butts and seven hogsheads – that have spent three in the traditional marrying tun. On the nose, the Whisky is rich and deep with lots of exotic and elegant oak notes, followed by sweeter aromas of dried fruits, raisins and dates, then a spicy outburst of ground ginger and some melted brown sugar. The palate is lush and slightly tangy with candied orange peel, lots of oak vanilla, some golden syrup, layers of honeycomb, toasted hazelnuts with some spicy ginger and nutmeg to finish. The Scotch is on sale for $409.99.
Lagavulin Jazz 2020 celebrates the 22nd anniversary of the Islay Jazz Festival, which was held online on October 3. Since 2011, Lagavulin has released a Whisky every year specifically for the festival. The 2020 expression is a 22-year-old Whisky that has matured in refill American and European Oak casks, some of which were seasoned with wine. The mix of casks has given an extra twist of rich, smooth and sweet fruitiness to the palate and finish of the Whisky. The Whisky is priced at $526.
Johnnie Walker & Sons Bicentennial Blend
John Walker & Sons Bicentenary Blend is "a sensorial journey down the fragrant aisles of John Walker's original grocery store in Scotland with rich layers that re-imagine the exotic flavours that shaped John Walker's imagination," said the distillery in their release. "It is crafted with rare and exceptional whiskies, all aged for at least 28 years, including whiskies from long-closed "ghost" distilleries such as Pittyvaich, Cambus and soon to be re-opened Port Ellen." The limited edition Scotch Whisky is priced at $800.
The GlenDronach Kingsman Edition 1989 Vintage
The GlenDronach Distillery has announced the exclusive release of The GlenDronach Kingsman Edition 1989 Vintage, the second expression created in partnership with the Kingsman film franchise.  Created in collaboration with the writer-director-producer behind the Kingsman trilogy, Matthew Vaughn, and GlenDronach Master Blender Dr. Rachel Barrie, the Whisky matured in Oloroso sherry casks with a final maturation in Pedro Ximénez casks. The Whisky is on sale for $1,299.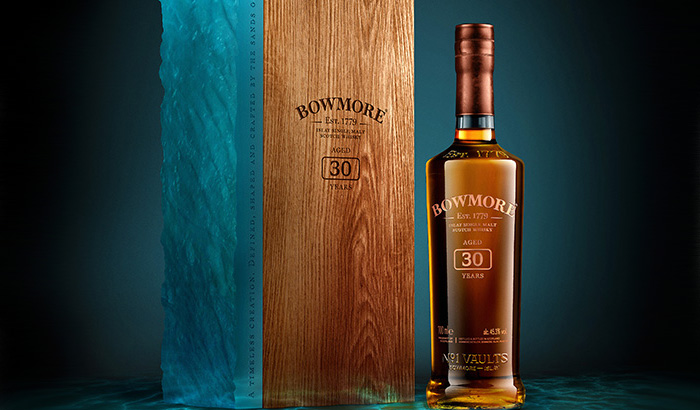 Distilled in 1989, the Bowmore 30 Year Old matured for three decades in Sherry hogsheads and Bourbon barrels. Just liquid from two barrels were selected to make the single malt, which will be the case for each annual release moving forward. Bottled at a cask strength of 45.3% ABV, the new Whisky is said to be "defined, shaped and crafted by time." On the nose, it features aromas of heather, bananas, peaches, pineapple, vanilla and butterscotch.  The palate brings tropical fruits honey, along with notes of peat and eucalyptus. The Whisky reatrails for $1,850.
Rosebank 30 Year Old – Release One
Rosebank 30 Year Old – Release One is a hand selected vintage from 1990, three years before the distillery was shuttered. Coming in at 48.6% ABV, it is triple distilled and non-chill-filtered. On the nose, the Whisky offers aromas of caramel wafer, vanilla, and nutmeg. The palate is delicate and crisp, balancing gentle syrup, pear and pleasing oak spice. The finish lingers with candied violets, orange, and a hint of mint. The limited-edition Scotch retails for $2,100.
Gordon & MacPhail 1984 From Glenury Royal 125th Anniversary Edition
The second of four commemorative Whiskies the independent bottler is releasing to celebrate its 125th anniversary, the Gordon & MacPhail 1984 From Glenury Royal comes from the last cask of the make maturing in the Gordon & MacPhail's warehouse, Glenuray Royal was shuttered in 1985. The Scotch features aromas of stewed fruit, cocoa powder, cinnamon, and toasted oak. On the palate, the Whisky provides sweet orange peel, cherry, burnt sugar and dried fig giving way to a medium and fruity finish with notes of aniseed and sherry. The Whisky is on sale for $2,499.99.
Douglas Laing & Co XOP The Black Series Macallan Vintage 1993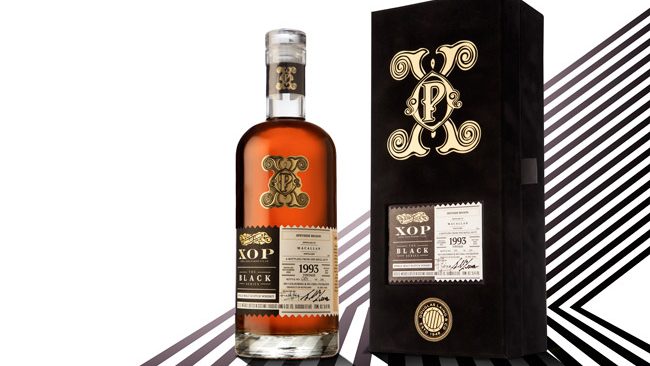 Distilled in November 1993 at the Macallan distillery in Speyside, The Macallan 1993 Vintage and has been bottled at cask strength of 56.4% ABV. According to the company, the Whisky features "a remarkably warm, amber colour and a flavour profile encompassing dried fruits, milk chocolate and honeyed barley." Only 244 bottles of the spirit have been made available for purchase. As of fall 2020, the limited-edition Scotch Whisky is priced at $2,700.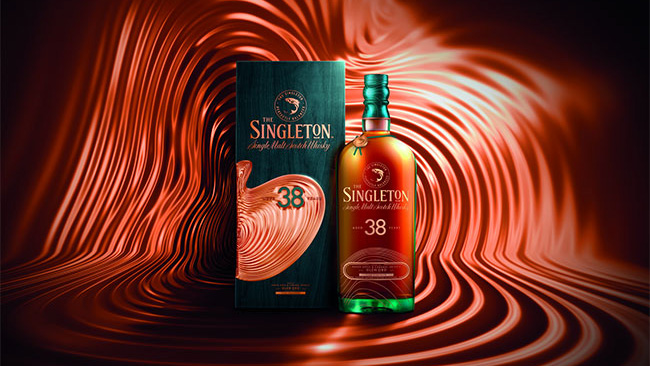 Drawn from eight casks, The Singleton 38 Year Old underwent a 26-year secondary maturation, the longest in the brand's history. After a dozen years of ageing, the Whisky was poured into a selection of experimental casks of ex-Bourbon, Pedro Ximénez oloroso-seasoned casks, and new American oak casks. It offers aromas of red apple, mango and candied citrus fruit. The palate features flavors of cinnamon-spiced baked apple, caramel fudge, a trace of salt and a touch of Szechuan pepper. The limited edition Scotch Whisky is on sale for $2,760.
Glasgow Whisky Munros Macallan 30 Years Old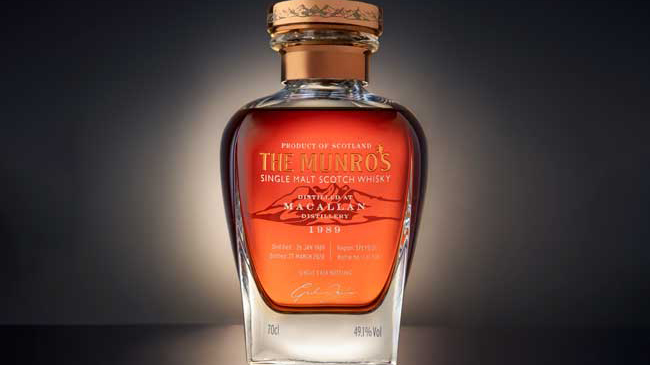 Distilled in January 1989, the Glasgow Whisky Munros Macallan 30 Years Old Whisky was matured for 30 years in an ex-Sherry cask. Bottled at its natural cask strength of 49.1% ABV, the whisky does not contain any additional colour and has received "minimal filtration." The Munros collection was created to honor Scottish mountains that stand more than 3,000 ft tall, known as the Munros. The limited-edition Scotch Whisky retails for $6,482.
The Dalmore Rare & Aged collection is made up of a trio of Scotch Whiskies aged 35, 40, and 45 years. Master Distiller Richard Paterson handcrafted each expression and they come in bespoke decanters from French crystal house Baccarat. The Dalmore 35, the youngest of the trio, features aromas of coffee and mousse. The palate is filled with dark treacle cake and even darker coffee, and is valued at $6,600. The Dalmore 40, meanwhile, boasts flavors of honey and will cost around $8,800.
The true King of the Dalmore Rare & Aged collection is The Dalmore 45, however, which goes for about $14,600. First aged in American white oak ex-Bourbon casks, it was then placed in two separate Vintage Graham's Port Colheita pipes. Then the two are brought back together in first-fill American white oak ex-Bourbon casks. The 45 offers notes of licorice, bitter chocolate, and honey.
Distilled back in 1973, the Fettercairn 46 Year Old first matured in American white oak, ex-bourbon barrels for over 40 years, before spending four years finishing in 40 year old Tawny Port Pipes. According to the distillery, "this creative maturation gave the classic tropical character a greater depth of sweetness, marrying perfectly with the distinctive flavours created from the unique cooling ring, which defines Fettercairn's pure spirit." The Whisky is priced at $11,000.
The latest addition to The Macallan's iconic Fine & Rare Collection, the 1993 Edition matured in a single Sherry seasoned American oak hogshead cask for 27 years. The warm mahogany-colored Whisky presents a nose where aromas of vanilla fudge and citrus merge with bright fruits of red cherry, plum and peach. There is a rich fig and spiced combination of cinnamon and ginger, along with hints of salted popcorn combined with peach, figs, cherries, rich antique oak leather, and cigar box. The palate offers Sweet oak, combined with rich dark chocolate. Caramelized grapefruit blends into vanilla, then moves into wood spices of ginger, hints of citrus and a light liquorice, antique oak, mint, forest fruits and dark chocolate. The finish is described as long with a rich ginger and chocolatey intensity. The limited-edition Scotch is on sale for $18,000.
Those interested should email Inquiries.us@themacallan.com.
Balvenie Fifty Marriage 0614 marks the end of the famed Speyside distillery's collection of fifty year old casks. David Stewart MBE has been the Malt Master at Balvenie since 1974 and selected the American and European oak casks to create the blend with only Whisky aged 50 years or longer being included in the expression. The result features dark spices, rich fruit cake, lots of elegant oak notes on the nose, followed by sweeter aromas of dried fruits, raisins and sultanas ending on a ginger spiciness. The palate is rich and lush with some bitter chocolate. Intensely spicy, there is a maple syrup sweetness, hints of honey and well integrated oak tannins. The Whisky is priced at $40,499.
Hopefully, these limited-edition Scotch Whiskies can help get your through the final months of 2020.