Ardbeg has unveiled two two historic whiskies created at pivotal moments in the distillery's history. Made from stock from the brand's most turbulent time, Ardbeg The Rollercoaster uniquely captures its highs and lows. Contained within 143 sets, these two rare cask single malts capture a bygone at Ardbeg. One was distilled in 1981 when the Distillery closed, and the other in 1989, when it reopened.
Founded on Islay in 1815, Ardbeg is famed for its smoky Scotch whiskies. And while this whisky is currently one of the world's most loved, its path has been strewn with challenges. In the 1970s, with fashion favoring blended whiskies, just a few casks each year were set aside to be matured as single malt. As a result, stock from that decade is exceptionally hard to come by. Then during the 1980s, the whisky industry suffered a downturn, and on March 25th 1981, the distillery and on-site maltings closed. However, Ardbeg's fortunes changed, and it reopened in October 1989.
Created just two weeks before the Distillery's closure, The Rollercoaster's first whisky is from the very last cask remaining from the stock of 1981. This 42-year-old bottling is lightly peated in character – a rare example of "Kildalton-style" Ardbeg. Aged in bourbon casks, then transferred into a single Oloroso sherry cask for rich, spicy notes, it is an unrepeatable taste of Ardbeg's past.
Celebrating Ardbeg's 1989 revival, The Rollercoaster's second whisky is one of the Distillery's final casks left from that year. Distilled on December 6th, just weeks after production restarted, the 33-year-old Ardbeg was matured in bourbon casks, then transferred into a single refill bourbon cask to enhance its subtle peated style. The whisky's unique flavors capture a singular moment in the distillery's history.
As its fans know well, Ardbeg's tumult did not end in 1989, as the distillery closed again in 1996, but was saved from extinction a year later.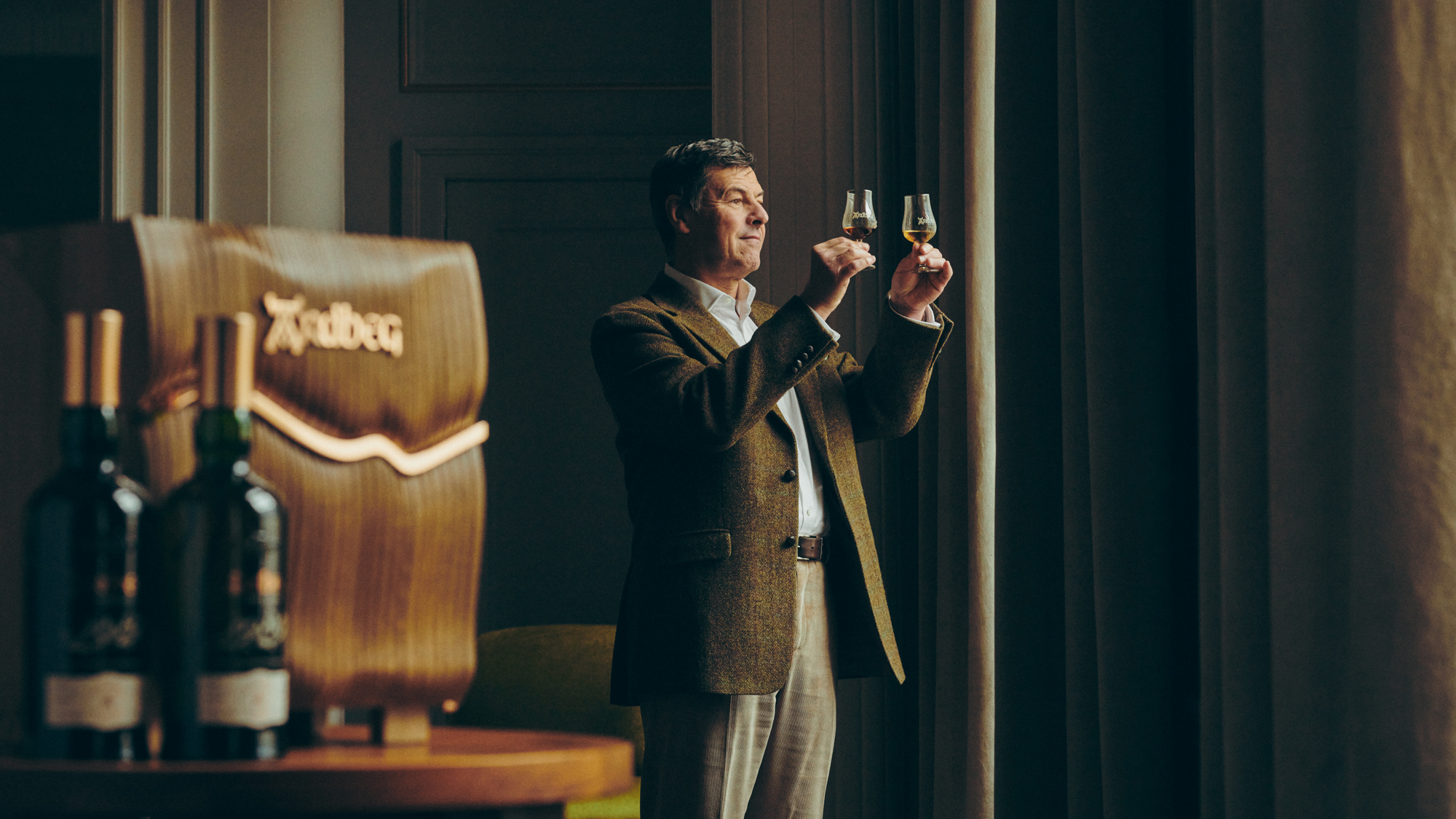 "From our Distillery's most perilous low come two unrepeatable bottlings which take Ardbeg to new heights," said CEO Caspar MacRae. "Ardbeg The Rollercoaster shows just how far our Distillery has come since its uncertain past. Today, Ardbeg is one of the world's most collectible whiskies. And as its fanbase continues to grow, we are more invested in our Distillery and our island community than ever before. We have built a new stillhouse to ensure the future of Ardbeg's legendary smoky spirit, and we have recently invested in a well-known hotel on Islay, so we can create a world-class hospitality experience for residents and visitors alike. Here's to the future of Ardbeg!"
Ardbeg's Director of Whisky Creation, Dr Bill Lumsden, said: "Ardbeg The Rollercoaster is a unique opportunity for collectors to experience two very different tastes of Ardbeg's heritage, and acquire a set of bottlings with an incredible story. The 1981 expression was made from some of the last malt ever to emerge from our maltings as Ardbeg teetered on the brink of closure. It is a beautiful combination of sweet and spicy sherried notes and hints of Ardbeg's savory side. Distilled soon after spirit flowed from the stills again, with a radically different malt, the 1989 is an equally singular Ardbeg. Classic notes of lime and vanilla combine with sea spray and very subtle, smoky tones. A snapshot of the contrasting spirits of those days, the time capsule whiskies of Ardbeg The Rollercoaster will go down in Ardbeg history."
Whisky Expert and Writer, Charles Maclean, who tasted the whiskies with Dr Bill Lumsden, said: "The Rollercoaster's two whiskies vividly embody the up-and-down fortunes of Ardbeg Distillery during the 1980s. With their rich historical provenance, intriguing stories and exceptional flavor, these rare, limited editions will be highly sought after by collectors.
"While these single malts are quite different to each other in taste and aroma, both are created from more lightly peated malt than the Ardbeg of today – and so have a gentler phenolic style. I find the 1981 whisky unusually mentholic and cooling, and the 1989 particularly elegant and reserved. Both are fascinating representations of highly significant years in Ardbeg's history."
Encased in a presentation box crafted from solid Scottish oak by designer John Galvin, Ardbeg The Rollercoaster's 143 sets will be offered to collectors and connoisseurs through the Moët Hennessy Private Client channel, across the world.
To register interest in purchasing Ardbeg The Rollercoaster, head over to the brand's official website. Price available on application.
In September, Ardbeg unveiled Traigh Bhan Batch 5. The annually released, 19-year-old whisky draws its inspiration from Islay's Traigh Bhan beach, known locally as the Singing Sands.