Glenfiddich has unveiled Grand Yozakura, the first-ever single malt Scotch whisky to be finished in rare Japanese Awamori casks. The limited-edition expression celebrates the finest flavors from Scotland and Japan.
Grand Yozakura is a 29-Year-Old Scotch whisky matured at the Glenfiddich Distillery in Dufftown and finished in oak casks that previously matured the oldest distilled alcoholic spirit in Japan, Awamori – creating an incredibly unique finish. Awamori is made using long-grain Indica rice and is traditionally stored in clay pots, with only a small proportion matured in oak casks, adding to the rarity of this liquid. It is said that the technique for making the spirit has remained the same for over 500 years.
Grand Yozakura sits within Glenfiddich's Grand Series, a collection of single malts characterized by experimental cask finishing. The collection includes Glenfiddich Gran Reserva (Aged 21 Years), Glenfiddich Grand Cru (Aged 23 Years), and Glenfiddich Grande Couronne (Aged 26 Years).
"We are always looking to experiment with new finishes, so when the chance arose to acquire rare Awamori casks, we saw an opportunity to push the boundaries and experiment with this highly unusual spirit," says Brian Kinsman, Malt Master, Glenfiddich. "This is the first time that single malt Scotch whisky has been finished in these rare casks. We always learn something new when we lead with innovation, so taking a risk is worth it, and in the case of Awamori, we trialed a very small number of casks at a younger age."
Lorne Cousin, U.S. National Ambassador, Glenfiddich, said: "Awamori is the oldest distilled alcoholic spirit in Japan, and its diverse range of flavors run deep, like Scotch whisky. Finishing in Awamori Casks for the last six months, this process elevates the liquid with rich oak notes complimenting Glenfiddich's signature smooth taste."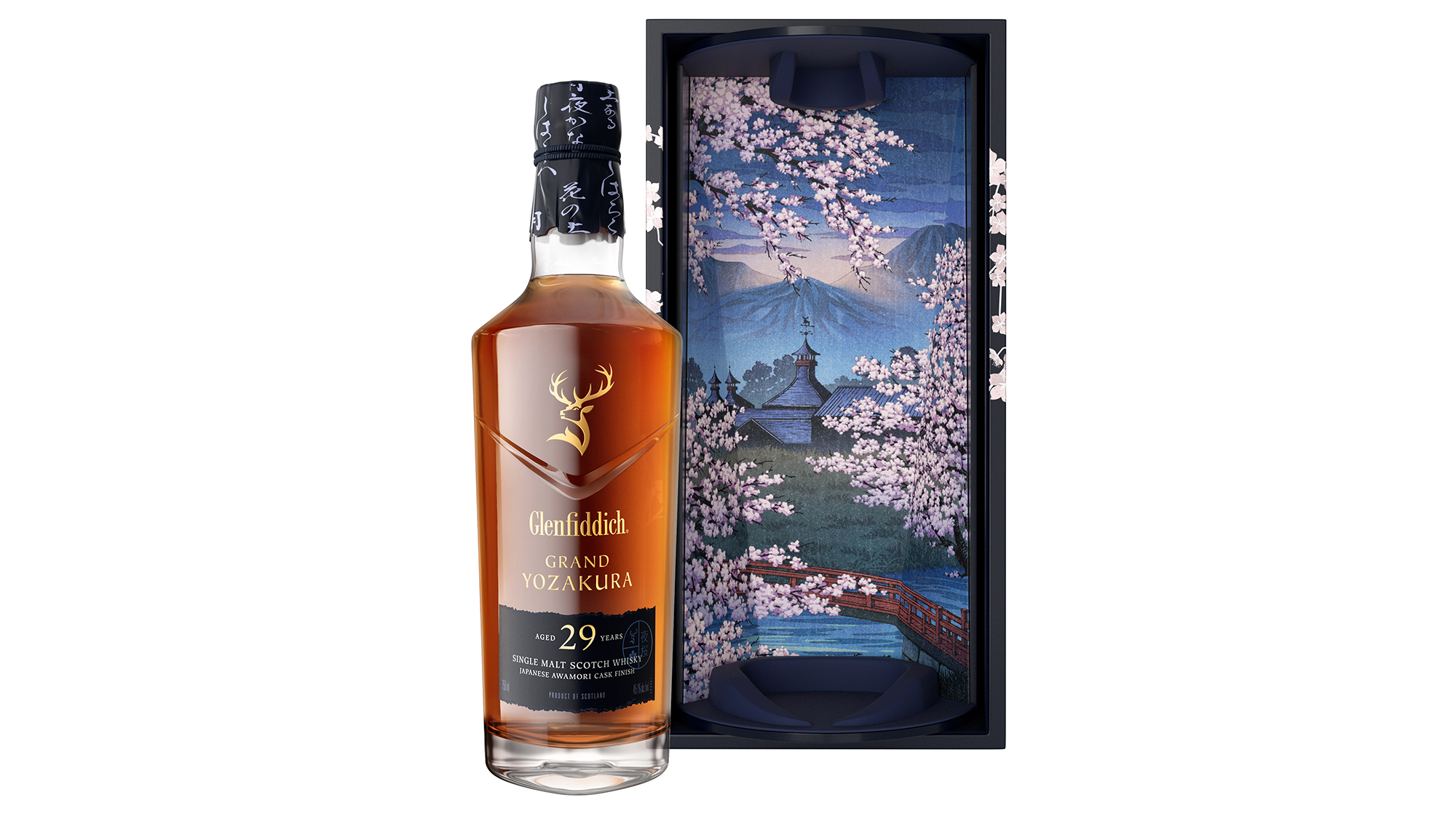 Allan Roth, U.S. Ambassador, Glenfiddich, shared: "Bringing together two carefully crafted spirits with such great heritage pays homage to Glenfiddich's history of creating dynamic whiskies through innovation." David Allardice, U.S. Ambassador, Glenfiddich, added: "This fusion is unlike any other project we have seen before at Glenfiddich; Grand Yozakura is arguably the most ground-breaking expression in our Grand Series so far."
Grand Yozakura is the first of a collection of limited-edition Grand Series expressions that are finished in rare casks from around the world, honoring a cultural celebration from that country. Glenfiddich's Grand Yozakura expression celebrates Hanami, the cherry blossom festival when Japan appreciates the temporal beauty of nature through the sakura (cherry blossoms). A time for renewal and optimism, the festival is best experienced illuminated after dark, where it is known as the Yozakura or 'night sakura.' This fleeting moment captures a pause when nature is honored, and at the same time, this marriage of rare liquid – once gone, will never be replicated. Grand Yozakura presents a transient chance to experience a collision of cultures and flavors.
Grand Yozakura is presented in an opulent glass bottle with a bespoke stopper with beautiful Hanko stamp engraving, a label tear design with Hanko stamp embossing, and a decorated fabric capsule with a traditional poem on sakura. The bottle is placed in a rotating Grand Range box with cherry blossom florals, bringing Hanami to life with a signature illustration created by Japanese artist June, who creates visions incorporating Japanese culture and landscapes.
Bottled at 45.1% ABV, Grand Yozakura is available in limited quantities at high-end retail and on premise accounts in the U.S. with a suggested retail price of $1,999.
Luxury spirit enthusiasts have the opportunity to secure an option to purchase one of the limited edition bottles in select markets through a ballot process available on Glenfiddich.com. The ballot is currently open and closes on April 20th.
In September, Glenfiddich launched its Time Re:Imagined collection in the United States. The Speyside brand's first-ever, ultra-premium range includes three single malt Scotch whiskies: Glenfiddich 30-Year-Old, 40-Year-Old, and 50-Year-Old.