Royal Salute continues to honor polo through the newest release in its iconic Polo Collection, the Royal Salute 21-Year-Old Jodhpur Polo Edition.
Celebrating Royal Salute's longstanding affinity with polo, this limited-edition expression follows the Scotch's history of capturing the culture and flavors of emblematic polo locations around the world. As the birthplace of modern polo and with its authentic roots in royalty and ritual, the Blue City of Jodhpur, India, was an organic inspiration for the fifth release in Royal Salute's Polo Collection.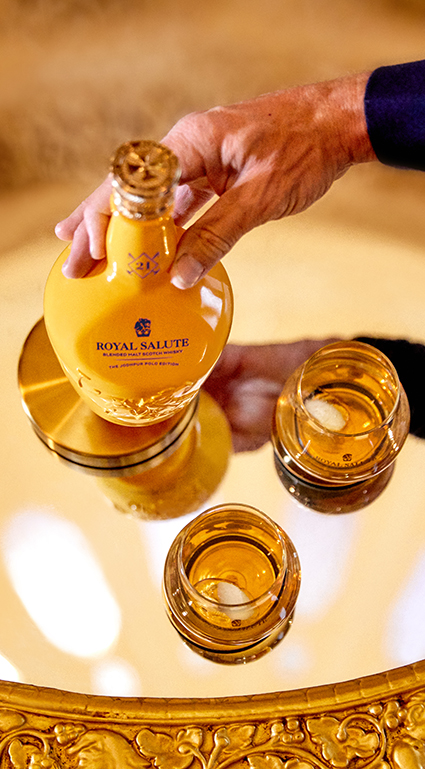 Crafted by Royal Salute Master Blender Sandy Hyslop, and endorsed by Royal Salute World Polo Ambassador and renowned polo player, Malcolm Borwick, the 21-Year-Old Jodhpur Polo Edition whisky is inspired by the rich spices and flavors of India and is a unique blend of carefully curated malt whiskies, which have been fully finished in virgin oak casks. The result offers notes of sweet mangoes and coconut, rich caramel and warming cinnamon cloves leading to a long and spicy finish.
Commenting on the latest release, Hyslop said: "I always focus on telling the story of an expression when I am crafting a new release and so I was naturally drawn towards the iconic flavors of India when crafting the 21-Year-Old Jodhpur Polo Edition. To honor these spices and aromas, I wanted this bespoke blend to have notes of sweet mango chutney and a spicy finish, to complement the richness. With every sip, this expression transports you to the magic of Jodhpur."
Shining a light on the Blue City, the 21-Year-Old Jodhpur Polo Edition is housed in Royal Salute's signature flagon, colored in a vibrant yellow that contrasts with the blue box. The design is reminiscent of a magical night in Jodhpur, with a majestic Indian palace as the central focus overlooked by a large golden moon, stars, and the twinkling lights of the city.
Royal Salute World Polo Ambassador Malcom Borwick notes: "Having played polo in Jodhpur numerous times, the city holds a dear place in my heart. It has a strong history with the sport and is referred to as one of the oldest homes of the modern game. This rich equestrian heritage, along with its spectacular historic architecture and its blue houses, makes it a fitting destination to honor with the exceptional 21-Year-Old Jodhpur Polo Edition. I really look forward to enjoying a dram of the new release on the side-lines after a polo match in the Blue City!"
The Royal Salute 21-Year-Old Jodhpur Polo Edition will be available in limited quantities beginning May 2023 at selected specialist retailers around the globe for $160 USD. For more information, head over to the brand's official website.
In 2021, the Chivas Regal-owned brand launched its Royal Salute Polo Estancia Edition, a blended Scotch whisky finished in Malbec wine casks from Argentina.